Our newsletter turns 100! Happy 100!
New group starts on Monday the 2nd of May, so candidates who would like to start  that date will have to send the enrollment forms and payment by next week. As you may know from our website front page, we now offer "Distance learning " delivery that is more affordable than "Online" delivery. When you ask for an enrollment form please specify which delivery type you would like to take. Enrollment form here:
http://kitchendesignacademyonline.net/contact/
British designer Tom Dixon has created a series of experimental kitchens using solid-surface material Caesarstone inside a deconsecrated 17th century church in Milan (+ slideshow).
The Restaurant installation consists of four Tom Dixon-designed kitchens and dining areas, decorated with a range of the designer's new and old products, inside the Rotonda della Besana church.
Food by Italian studio Arabeschi di Latte is prepared in three of the kitchens and whisky is offered from the other, while demonstrations showing cutting-edge cooking techniques and food preservation methods are also incorporated into the show.
"We have a restaurant in London and I have taken to being the sous-chef," Dixon told Dezeen at the opening. "What you see when you are working in a kitchen is the battering that the equipment gets, and one of the most important things is the surfaces."
"So we decided not to do a show of products for Milan design week, but to put together this restaurant instead because it's the optimum landscape for showing people how things function."
The kitchen units and matching dining areas are positioned in each of the cruciform-shaped building's wings.
Above photo: The Water section of the show features Tom Dixon's Ice kitchen, which is designed to resemble jagged chunks of ice
Products from Dixon's new Materiality range, including a geometric light named Curve and teardrop-shaped lamps called Fade, are also being shown for the first time as part of the installation.
The layout is designed to encourage visitors to move between the kitchens to try different courses that together make up a full meal.
"I've sat down in too many endless formal dinners in Milan," Dixon explained to Dezeen. "Sometimes you're sitting next to people you didn't want to sit next to, sometimes you're sitting next to great people but maybe you run out of conversation."
"The restaurant is a space where all of this is broken up and deconstructed," he continued.
Above photo:Tom Dixon's new geometric Curve lights are suspended at the centre of the 17th century church
The first kitchen, named Air, was designed to resemble urban architecture in modern cities. Cooking and work surfaces are combined with shelves fitted across large cut-outs in large vertical Caesarstone slabs.
Visitors are shown how air is both incorporated into food and sucked out of it in this area, and the kitchen serves light desserts like meringue.
Vegetables are being grown above the Earth kitchen in an aqueduct influenced by ancient Roman structures comprising arches.
Earthy-coloured Caesarstone surfaces, natural wood, gold items from Tom Dixon's existing collections and white lighting also feature. Vegetarian food is prepared here using an old cooking method that utilises hay to insulate a cooking vessel.
Above photo:Vegetables are growing in the aqueduct above the Earth kitchen
The Fire kitchen incorporates darker tones of solid-surface material Caesarstone, with elements of gold and copper used to suggest flames. The food served in this kitchen is smoked and seared.
The Water section of the show features Dixon's Ice kitchen, which made its debut in Toronto in January and is designed to resemble the jagged chunks of ice left over when breakers clear Canada's frozen lakes during the winter.
Above photo:Darker tones were used for the Fire kitchen, which is serving charred and seared food
Dixon regularly stages ambitious shows at design weeks like Milan and London. Last year, the British designer took over an abandoned theatre during Milan design week and sold products directly to visitors instead of just exhibiting prototypes.
During London Design Festival 2015, he launched a pop-up department store called Multiplex, showing and selling his own work alongside 30 international brands. In 2014, he created a live "factory" at Paris' Maison & Objet design event.
Caesarstone teams up with a different designer each year for its annual Milan design week installation, with last year's version featuring swings by London designer Philippe Malouin inside a Neoclassical palazzo.
http://www.dezeen.com/2016/04/13/the-restaurant-tom-dixon-installation-caesarstone-milan-rotonda-della-besana-church/
Ernestomeda at Milan 2016
K-Lab with open base units, solid antique knotted terra d'ombra oak and breccia imperiale marble by Giuseppe Bavuso!
https://www.facebook.com/ernestomeda/?fref=photo
For Milan 2016 Arclinea presents a new project by Antonio Citterio.
PRINCIPIA
"Omnium rerum principia parva sunt" Cicero (De finibus,5,58)
Natural materials, innovative production technologies and artisan details, together.
Function and ritual: the kitchen is architecture.
Increasingly the heart of the home, the kitchen shifts from its role as the focal point in the house, a room inside a building, to become a main player in the development of interiors. A space that 'comes about'through the design of functions, the purpose of work, the many shared experiences. The kitchen is architecture. Exterior and interior are a single design: a part of a whole that unites and relates. Beyond its fundamental centrality, the kitchen becomes the substance of living, a flexible barycentre of a shared, connected, coordinated living space.
http://www.arclinea.com/eng/communication/events/salone-del-mobile-2016
Pedini at Salon Mobile, Milan 2016
https://www.facebook.com/227173663965176/photos/ms.c.eJxFkMkNAzAMwzYqfB~;7L1ZUqe0vQclKWCWrUy1FgpU~_~;AdO7m2hC0yrJTsHmMDwOACjekE9Y0stcIXrwIv4AHeAjAOI0JZ6oNRkQPTPoN6OSHSEDUhCRPZsKQw7gGGUBxIR5gH9Hqe7o9~;jiA48Y3~_s37CYYUUo1eYF9gw6Ax0y04sFhssXYJlXIQ~-~-.bps.a.1326468480702350.1073741888.227173663965176/1327897423892789/?type=3&theater
$34,000 Dolce Gabbana, SMEG Fridge at Milan Design Week 2016.
Domenico Dolce and Stefano Gabbana are well know for paying tribute to their Italian heritage, especially that of Sicily. The duo have teamed up with Italian appliances brand Smeg to produce 100 refrigerators hand-painted by Sicilian artists for the upcoming Milan Design Week 2016.
"Every piece is unique, but they all tell a story consistent with our brand identity. They might be kitchen appliances, but there's something that is immediately identifiable as Dolce & Gabbana, from the Sicilian barrows to the Trinacria symbol to the marionettes to the Italian lemons and fruits," explains Domenico Dolce.
Each fridge took about 240 hours to be painted, making each unit a one-of-a-kind artwork. Each fridge will be available through Smeg and Dolce & Gabbana for about $34,000 USD, so get in quick! At these prices they are sure to sell out!
http://designaddicts.com.au/platform/2016/04/08/34000-dolce-gabbana-smeg-fridge/
Secondome At Fuorisalone 2016
Within the group show ladies & Gentlemen, edited and produced with PS design consultants, the design gallery presented two new collections craftsmanship in Italy.
http://www.internimagazine.it/?p=93201
A prototype kitchen for Snaidero by master engineer Pininfarina. Snaidero USA
https://www.facebook.com/Interiorsmagazine/?fref=photo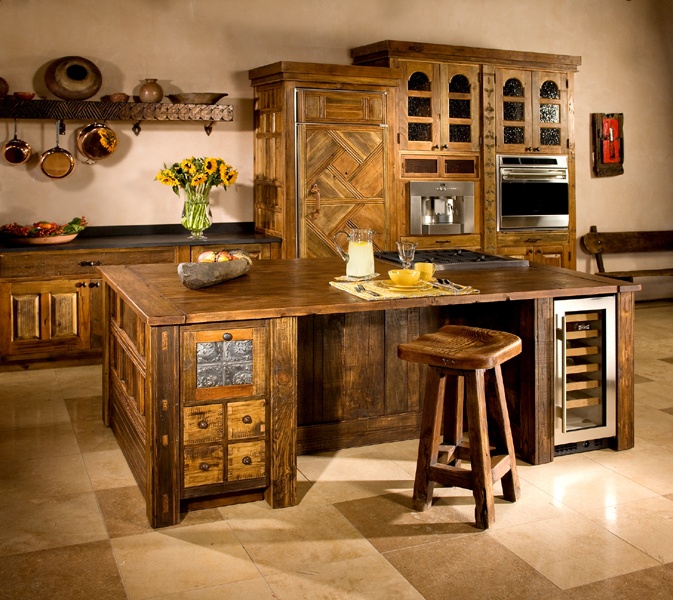 http://www.digsdigs.com/64-unique-kitchen-island-designs/