Hello everyone, and welcome back for a new and exciting year! We had massive enquires this year from all over the world and we want to welcome first group  of 2017 starting tomorrow, the 7th of February!.
We were frequently asked which is the difference between Online delivery and Distance delivery, and whether there is a difference in quality on the learning material. Here are some details:
1.There is no difference in quality of the modules between Online and Distance delivery.  The difference is purely in delivery type and assessment.  We created Distance delivery as a more affordable option.
For Online delivery we send out a new module every Monday. Once the assignment comes back, we asses it and send back a mark and feedback. On completion we issue a certificate of graduation. Students have unlimited access to tutorial support.
For Distance delivery we send out ALL the modules in the same time and we request that ALL the assignments to be send back in the same time too. Once received, we asses all the assignments and give an overall score. There is no individual assessment and feedback. Also, tutorial support is limited. On completion we issue a certificate of graduation.
2. Part time enrollment means you choose a LIMITED number of modules from the ones we offer. Part time enrollment is available for Online enrollment only. Many students have a previous experience in drafting or decoration, hence they can choose only the modules specific to kitchen design that could complement the level of skills they already have.
In all cases students enrollment last for one year. They have than one year to return all the assignments to us in order to receive a certification. If they pas one year, they will have to pay the enrollment fee once again and maybe undertake further assessments if the modules have changed.
Online enrollments start every first Monday of the year. Starting dates for 2017 are:
-6th of March
-3rd of April
-1st of May
-5th of June
-3rd of July
-7th of August
-4th of September
-2nd of October
-6th of November
Distance delivery students can start at any time.

SILVANO BARSACCHI
Silvano Barsacchi lives and works in Pisa. From the beginning, he has always specialised in industrial design, collaborating with some of the biggest manufacturers of fitted kitchens and home and office furniture companies. For a few years, he managed the Tonelli Kitchen design studio. In collaboration with other designers, he designed furniture for Mazzei, Effetì, Ciatti, Composit and Fasem. Since 1982 he has worked for himself as a designer, planner and consultant. He deals with design, interior design, shop and showroom interiors. He designs for leading companies in the furniture sector such as Pamar, Fam, New Form and Barnini Group. In recent years he has been working for Scavolini and Mercantini Mobili, consolidating a long period of design. In the Nineties, in collaboration with the manufacturers of raw and semi-finished materials for wood processing, he set up a technical-experimental research and development centre for product industrialisation.
TESS
Lacquered fitted kitchen for Scavolini
The Scavolini line allows a tasteful, rational take on all spaces. Thanks to a wide range of products, Scavolini takes up different styles and desires, including those of the public who wish to make their own home unique through design.
Tess – Functionality and technology with style
A contemporary kitchen, with leading-edge features to suit the modern lifestyle.
Where top-quality materials, latest-generation appliances and perfect organisation give free rein to socialisation and self-expression.
MOOD
Fitted kitchen
The Scavolini line allows a tasteful, rational take on all spaces. Thanks to a wide range of products, Scavolini takes up different styles and desires, including those of the public who wish to make their own home unique through design.Mood – Contemporary taste and quality of life in the kitchen
There are a wealth of innovative solutions in Mood, a kitchen that responds successfully to new rhythms of daily life, and the urge to personalise one's home. A kitchen of stylish simplicity, perfect in its contents and functions, which extends its horizons into the home: all space must waiting to be lived in, with no boundaries. Products with a variety of opening systems (under-top frames, under-top frames and central strip and handles), a huge assortment of materials and a trendsetting colour range, Mood is a vast kitchen design project to delight different tastes, rich in new ideas and elegant solutions. Exclusive, sophisticated attributes of an all-Italian kitchen styled for our time.
http://www.archiproducts.com/en/products/269691/scavolini-fitted-kitchen-mood-scavolini.html
Open
When design and perfection coexist to define the concept of kitchen-living room.The kitchen as part of the 'architecture of the room, a meeting place for family and friends. Strong similarity in the 'union of design and function. Rear panel in wood veneer walnut stripes.  Locking stainless steel wash and bases with handle groove.
Barn
Sophisticated but simple shapes, This cuisine is offered with different variations. Its characteristic is the mix between traditional elements and advanced equipment, built with quality materials and customizable.
Central island with completely stainless steel bases
Worktop in Stainless steel
Piano Walnut snack (available in various types of wood)
Sink Zero mm Design with toughened glass platter and Bowl colander
Combined Gas cooktop and plate
Central Hood
Welded stainless steel top by our team of professional welders
A mix of traditional elements and advanced equipment, personalized with unique features for a wide range of users.
Drawer with Internal partitioning System with flexible stainless steel organization and Cushioned Closure
Wagon
The gloss of the glass and steel exalt the lines of this kitchen, with advanced processing techniques that give origin to a perfect balance between functionality and robustness.
Wall art in the kitchen
Our kitchens are composed primarily of stainless steel AISI 304, the prince materials that will give quality and durability to your kitchen. In the door and the top choice of material is wide. It ranges from wood, stone, all'Okite and many other materials. Below are listed the most common, normally used leaving you the freedom to ask directly to your liking sebbeno material not provided by the following exposure
Top steel cantilever with hob and washing zone corner. Basket full extension projecting below the sink. Telescopic column 4 baskets with door in blue lacquered steel.
http://www.arcacucine.it/portfolio/wall/
koz susani design harvest justaddwater nutrition ecosystem
in the past, the phrase 'just add water' when alluding to food, always referred to the preparation of industrial canned and processed provisions whose origins were unknown to the average consumer. using this as a reference, koz susani design (defne koz and marco susani) aim to change our perception of the term, by bringing forth an innovative nutrition ecosystem that preserves the simplicity and comfort of processed cuisine, while combining it with micro gastronomy so that the approach to convenient and healthy meal preparation is more that of the locavore mentality, and closer to the slow-food movement.

'justaddwater' innovation nutrition ecosystem
presented at the 2014 istanbul design biennial, 'justaddwater' is all about designing the food experience from beginning to end; including the tools and devices used to prepare what we consume. at the core of the concept are 'flavor pills' which draw their form and purpose from molecular cuisine. each capsule condenses flavors, spices and nutritional supplements in balanced quantities — their mixed ingredients derived from the creative recipes of world-renowned chefs, packaged into aesthetically surprising and pleasing shapes (cubes, balls, cylinders). the sustainable contents of 'flavor pills', though part of the larger, global, industrialized distribution eco-system, are organic and fairly traded seasonings which generate very little 'matter', as they do not contain the typical amount of bulk materials required for a recipe, but rather only its taste.

warm soup 'flavor pills' are dropped into a pot of hot water and combined with local produce
the 'flavor pills' are intended to be combined with fresh produce from local farmer's markets, all prepared and cooked right on the dining table using accompanying 'justaddwater' appliances. these devices stand catalysts in which to prepare your sustenance, with each apparatus designed to offer an all-encompassing sensory experience — from the visual to the olfactory.

'warm soup' appliance with accompanying screen which allows you to view recipes, track nutrition and log dietary needs
the smart appliances include recipes on a touch screen, that can also be connected to mobile apps, fitness trackers, wearables and food itself; offering a complete network of personalized menus, nutrition tracking and diet planning. all sensor-controlled, each one is strongly associated with the 'flavor pills' — programmed to use the precise amount of speed and time to cook your repast, while having the ability to record and optimize the process so that it can be easily repeated at another time.

fresh water flavor pods and accompanying carafe
'justaddwater' is a step toward transferring the food revolution of molecular gastronomy from exotic and high-end restaurants into the home, expanding the trend from elite consumers, to the more mainstream market. its values lie in bringing new appreciation to what we put into our bodies — gratifying one through gastronomic pleasure, while respecting food, its associated rituals and nutritional values. above all, it aims at doing this through a renewed design language, merging the artificial with the natural in a way that is beneficial and does not pose any friction.

fresh water filtration and flavoring carafe

tea drops are flavored bubbles that are dropped into hot water, infusing it with various aromas

appliance for the preparation of hot tea

'justaddwater' protein gels provide energy juice

'justaddwater' juicing appliance
'justaddwater' fiber nests add additional flavors and nutritional value to your meal
grain grinder appliance

'justaddwater' smart appliances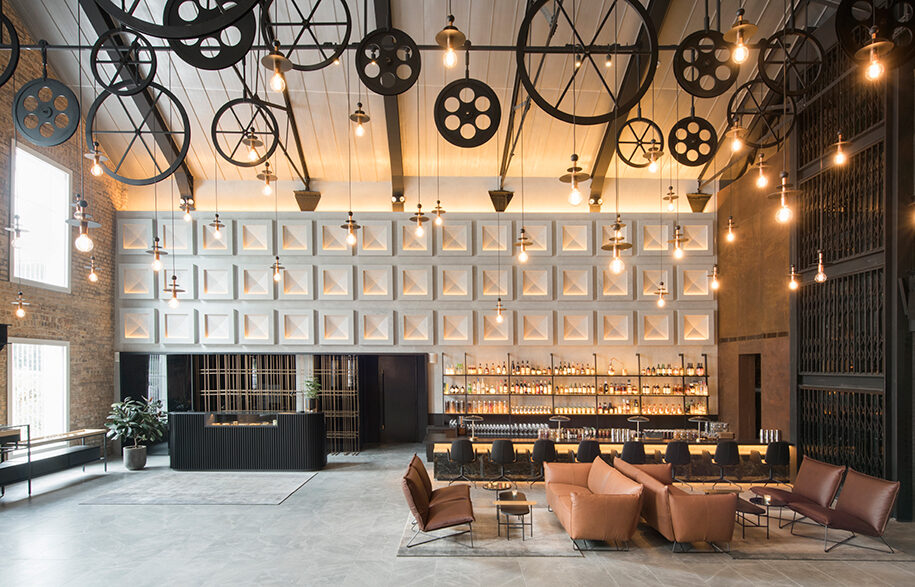 The Warehouse Hotel located along the old Straits of Malacca trade route in Singapore, in an area that was once rife with secret societies, underground activity and liquor distilleries, the 37-room hotel boasts an aesthetic that blends the air of a bygone era with modern-day Singapore.
"Our focus has been to protect the property's legacy, while creating a fresh perspective on the term 'industrial'. The environment is warm and sophisticated to prevent it from being too obviously grounded in what has been before," says Chris Lee, head designer and founder of Asylum, who, brought on by The Lo & Behold Group, were charged with the interior design.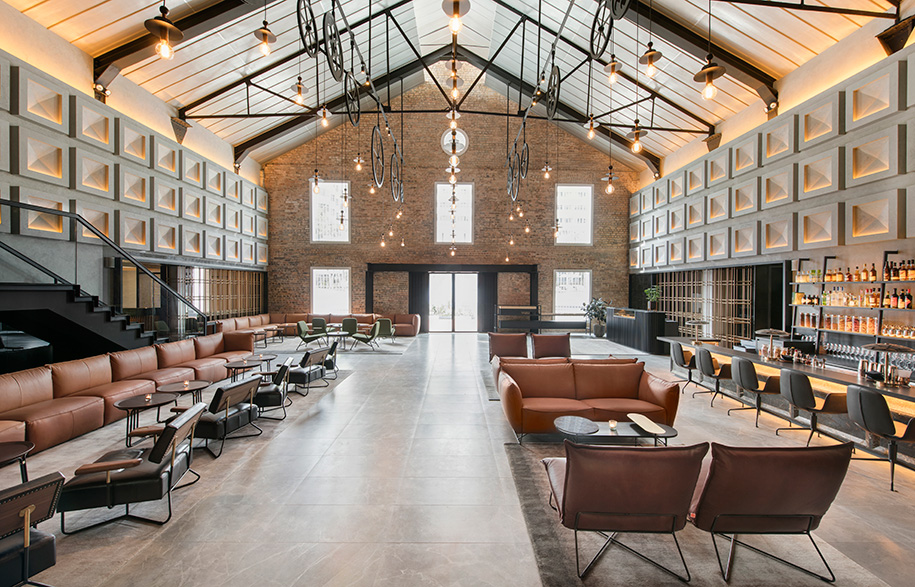 There's a push towards supporting – and showcasing – local designers and businesses. In-room tea and coffee mugs are from a local ceramic studio. The actual tea and coffee selection, along with bicycles, artwork and guidebooks, are likewise collated from local Singaporean makers and the 'Minibars of Vice' have been expressly curated to showcase Southeast Asian products.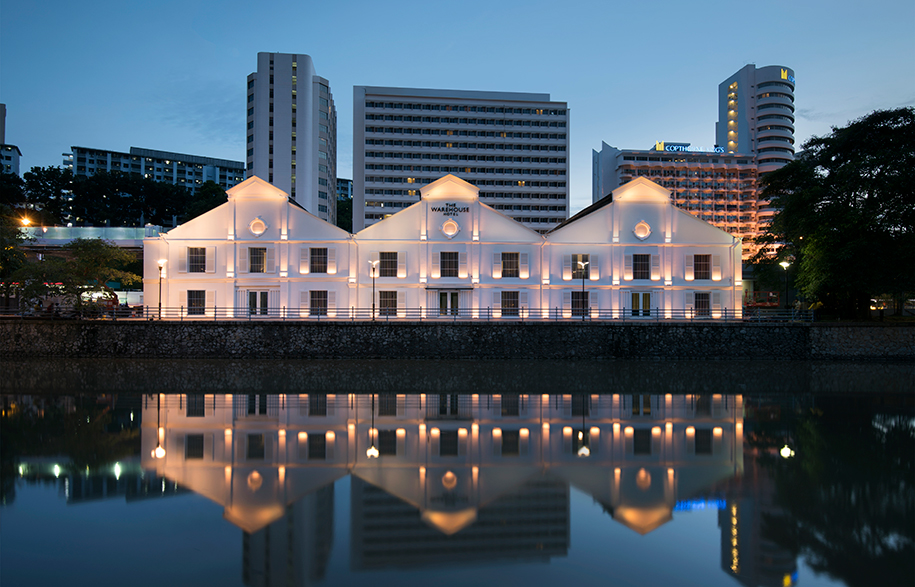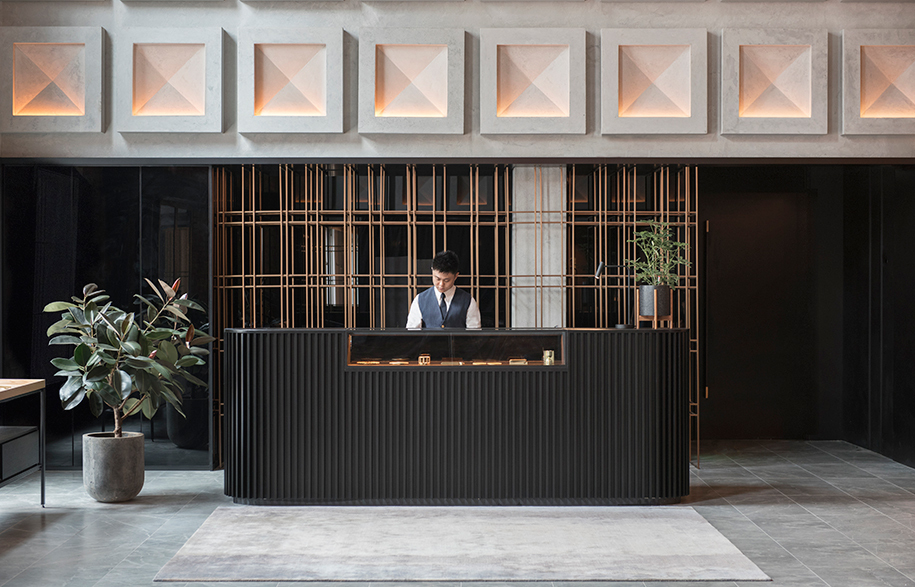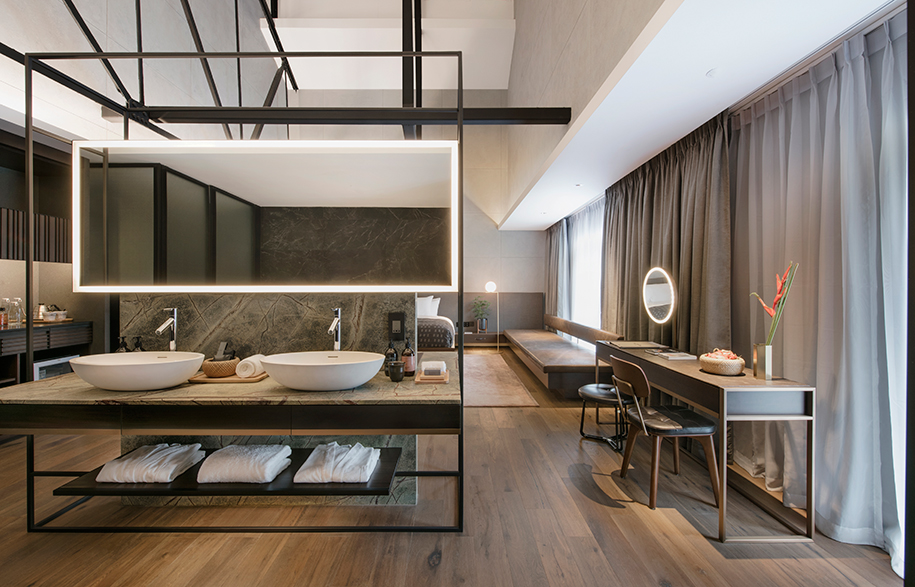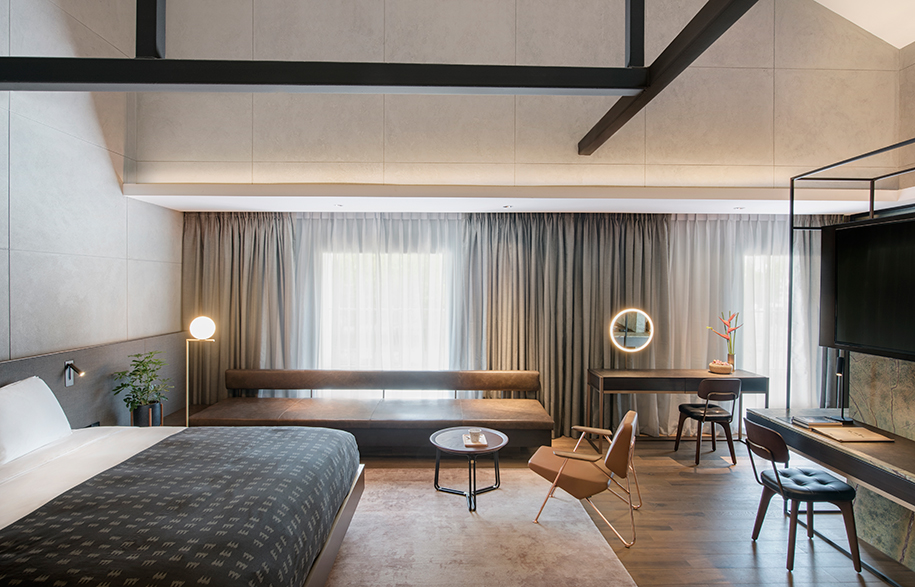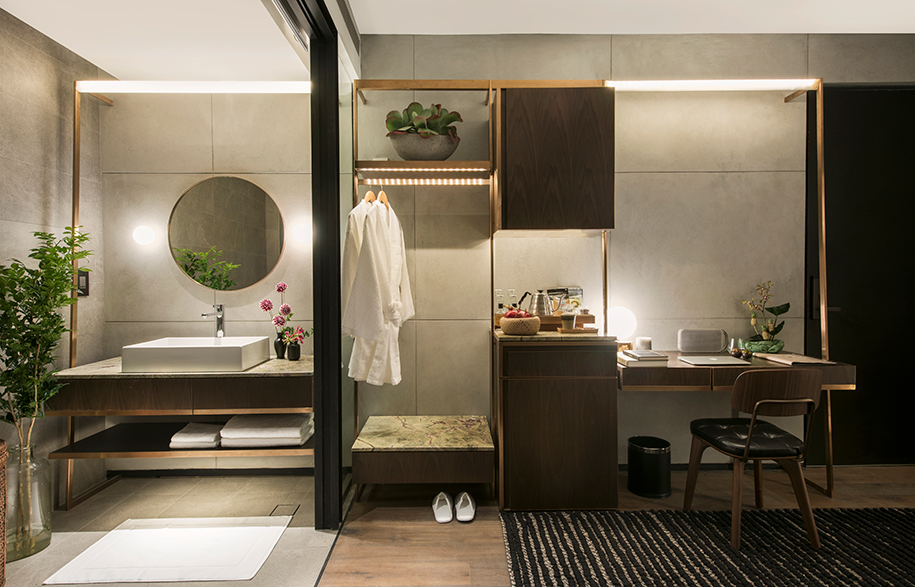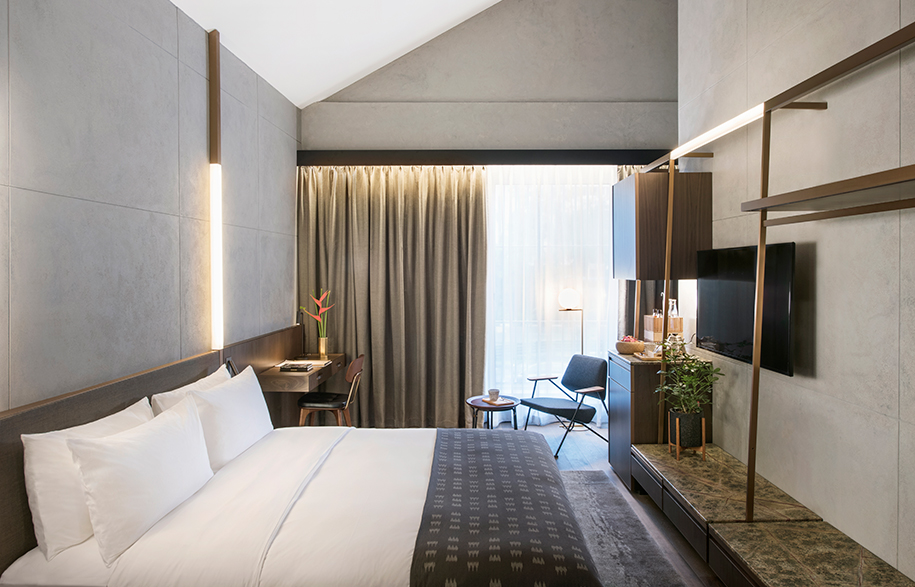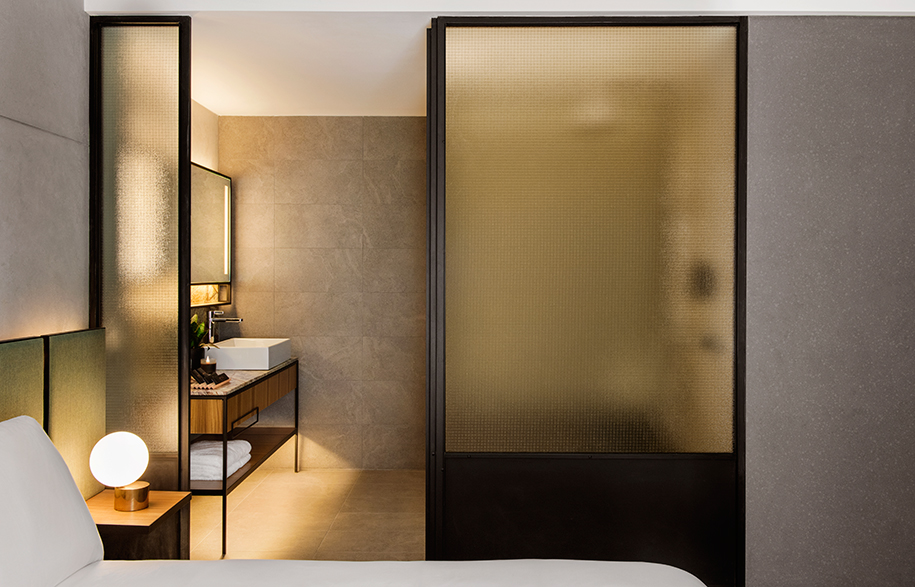 http://www.habitusliving.com/projects/lo-behold-the-warehouse-hotel-restoration-is-complete