Houzz & the Kitchen Design Academy have partnered to provide benefits for students and members!
Houzz is the world's largest community for home design and renovation.  Over 1.5 million Australians use Houzz every month to connect with designers and contractors to help them with their projects – so having a strong presence on Houzz is a great way to showcase your work and get more local clients.
Our new partnership provides our students and members with a number of benefits.
Member benefits
See a full outline of benefits for members here.
Free Professional profile on Houzz – to showcase your work, contact info and to identify yourself as a member of the Kitchen Design Academy.
Priority access to the marketing and support team. All KDA students and members receive a complimentary 20 minute consultation with the Houzz team to make sure your profile is looking its best!
Invitations to local and exclusive Houzz events and workshops
Access to Houzz's exclusive localmarketing program
Book in a time to get started on Houzz here!
Please reach out to ausupport@houzz.com or our main contact annabel.sullivan@houzz.com to find out more.
Next Online group starts 6th of March. As you know, distance delivery students can start any time!
 Enroll now and change your life:
Michael Young was born in 1966 in Sunderland, a small industrial city in the North-East of England. He graduated from Kingston University in 1992 and the following year, he founded the Michael Young Studio with the aim of providing exclusive, quality design services across an eclectic range of markets – from interiors to technology.
Michael Young quickly became one of the UK's most sought-after young designers and revered retailers and institutions such as the Conran shop and the Pompidou Museum began demanding his work. He became known in the industry as a sophisticated minimalist acclaimed for his elegant, pared-down aesthetic design, which was in direct opposition to the elaborate style dominating London at the time.
After nearly a decade working across the UK and Iceland, Michael was enticed to Asia by his passion for pioneering technology, and in 2006 set up a studio in Hong Kong. Today Michael Young Studio is considered to be one of the most exciting and formidable design companies operating in Asia, responsible for designing award-winning icons for its clients that last a lifetime and are presented in museums globally.
Over the past 20 years Michael Young has established himself as one of the leading international figures in his field continuing to push the boundaries of experimental design. The studio specialises in creating modern design through exploring the endless possibilities Asia's technological ingenuity provides. Propelled by the momentum created through collaboration with Chinese industrialists, the studio captures the strengthening ties between local industry and design, and exemplifies the skills of Asia's industrial innovation.
The result is work that transcends design by harnessing some of the highest and most innovative manufacturing skills to create Industrial Art. Michael Young's vibrant imagination and his continued ability to innovate and take a fresh approach to a seamless blending of East and West is what keeps his work relevant and increasingly in demand across all continents.
"It is design as Industrial Art that interests me, not just as a limited edition, but on a scale of mass production." – Michael Young
TETRIX
The Scavolini line allows a tasteful, rational take on all spaces. Thanks to a wide range of products, Scavolini takes up different styles and desires, including those of the public who wish to make their own home unique through design.Tetrix – New style
"For this project we started from the desire to create an aesthetic with no horizons, playing with the elements on horizontal axes and discovering all the compositional possibilities. With a brand-new point of view for the kitchen world."
With these words Michael Young, who created the Tetrix kitchen for Scavolini, unveils the core and style of an innovative kitchen area, essentially based on modules and colours, which use logic and colour patterns to revolutionise the concept itself of living.
It is no longer limited but "open", playful and free to manifest itself in any area.Tetrix is:
Single colour: Modules and colours make your Tetrix kitchen unique. To personalise your composition you can choose one colour.
Colour blocks: With the available colours you can also personalise parts of the composition or blocks of modules (base units, wall units and tall units), creating customised colour configurations.
Colour kit: For Tetrix it is possible to choose among the 20 colour kits (which cannot be changed) designed by Michael Young. The chance to freely choose a colour for the top units and top boxes will allow for further customisation.
http://www.archiproducts.com/en/products/269698/scavolini-fitted-kitchen-tetrix-scavolini.html
http://www.michael-young.com/who-we-are/
Italy
ORIGINS
The story of GD furniture began in 1969 in Biancade, center traditionally devoted to furniture production, near Treviso. The company owes its development and its success to the intuition and perseverance of Joseph Dolfo, the founder, and his ability to represent and express consciously in products that gradually concocting some yarn, the fundamental union "tradition-modernity."
VALUES
In respect of its customers, the Company attaches most value to the content and substance of the materials, especially wood. Wood is a fundamental component of the furniture GD furniture, present in his DNA by history and tradition, and for its recognized strength and reusability in time.
They are used in the carpentry department of Ash trees, oak and other species from controlled reforestation. After the curing, they are sectioned and machined in a largely integrated process .
STYLE
As well as the best value "form and function", the design research of GD Arredamenti has developed in the wake of a non ephemeral contemporary stylistic dimension, purified from the excesses and fashions, for timeless aesthetics it made the same way as products: last for years, resisting wear and the evolution of taste.
This design approach refers to the concept of "classic trendy", stylistic intuition and philosophical background born in GD furniture, which has affected the market by opening new perspectives for the design of furniture, household and kitchen furniture and giving GD an identity recognized and recognizable.
That of products GD Arredamenti offers its customers is a precise identity, founded on the quality of content as well as the containers, on materials like wood, stone, steel, glass. Identity based on reliability and durability of the products, on a proper relationship between form and function, in respect of customers, users, the environment.
ELITE VELVET
Modern cooking show with a strong technical and aesthetic impact presented at Eurocucina 2014 in wooden versions 3-layer Oak, Larch and Walnut.
Velvet Elite is characterized by the opening system with flat throat and from the door from the thick (26 mm) whose profile, cut at 30 °, allows the opening without the need of external handles. These details characterize its essential style in compliance with the ergonomic parameters.
The Velvet Elite program is further distinguished by the versatility of materials and finishes available for doors and accessories: wooden 3-layers of natural or stained brushed oak in 7 finishes, wooden 3-layers of tinted brushed larch in 3 finishes, wood 3- Canaletto walnut layers,
VELVET PROFILE-C
Velvet Profile-c is the cooking show with a contemporary-minimalist style characterized by leaf from thick (26 mm) from the throat and aluminum semi-gloss finish, gloss white, anodized black, bronze effect or veneered wood that ensures optimal grip in function of anthropometric models.
The Velvet Profile-c program is further distinguished by the versatility of materials and finishes available for doors and complements:
Wooden 3-layers of brushed oak, natural or stained finishes in 9;
Wooden 3-layers of tinted brushed Larch in 3 finishes;
Wooden 3-layers of Walnut;
5 of veneered special essences, also available in ultra-gloss finish;
Oak veneer, lacquered available in 7 colors or dyed in 11 colors;
Ceramic slab (th. 4 mm) reinforced on the back available in 6 finishes textural and mounted on an aluminum frame in semi-gloss finish, glossy white or black anodized;
Plate glass (th. 4 mm) polished or satin lacquer on the back available in 12 colors and mounted on an aluminum frame in semi-gloss finish, glossy white or black anodized;
24 lacquered glossy and matt colors;
Special lacquer available in 5 material effects.
QUICKSILVER
Kitchen designed by Italian designer Roberto Pezzetta and awarded by The Chicago Athenaeum of Architecture and Design with the Good Design Award 2009 and the Robb Report magazine with the Best of the Best 2011 .
Quicksilver is characterized by the contrast between linearity and smoothness, marks that survive and at the same time blend with great effect.
The project uses the extraordinary properties of materials like door (thickness 24 mm) in satin tempered glass. Available in 7 colors lacquered on the back, the frame to which it is attached is in anodized or black painted aluminum with epoxy resins to give high resistance to corrosion.
The opening takes place through the electrified system ServoDrive operated pressure or push-pull.
The project includes a working unit with a terminal base, wide 36 cm, the glass top is curved and continues on the side. The result is a single element, realized thanks to the extraordinary properties of the materials.
GIOIOSA
Kitchen with a classic contemporary style with doors in solid wood frame of ash characterized by a quality / exclusive price of GD furniture thanks to the integrated production process , from the tree to the finished furniture.
Gioiosa is characterized by leaf (thickness 24 mm) in solid ash wood on which the innovative grip handle is obtained, full width. Available in 5 different colors with lacquered with open pore finish, also it includes doors made of glass applied in solid ash wood frame. Exclusively for this kitchen it is the hood exposed steel with applied panel in ash wood.
Feature of the model is the handle profile obtained directly on the door frame that ensures optimal and ergonomic grip.
In the case of mobile column, the upper doors of the handle is formed on the lower upright of the frame. The same solution is adopted for wall cabinets.
http://www.gdarredamenti.it/cucine-moderne/gioiosa/
THE NIKOLA TESLA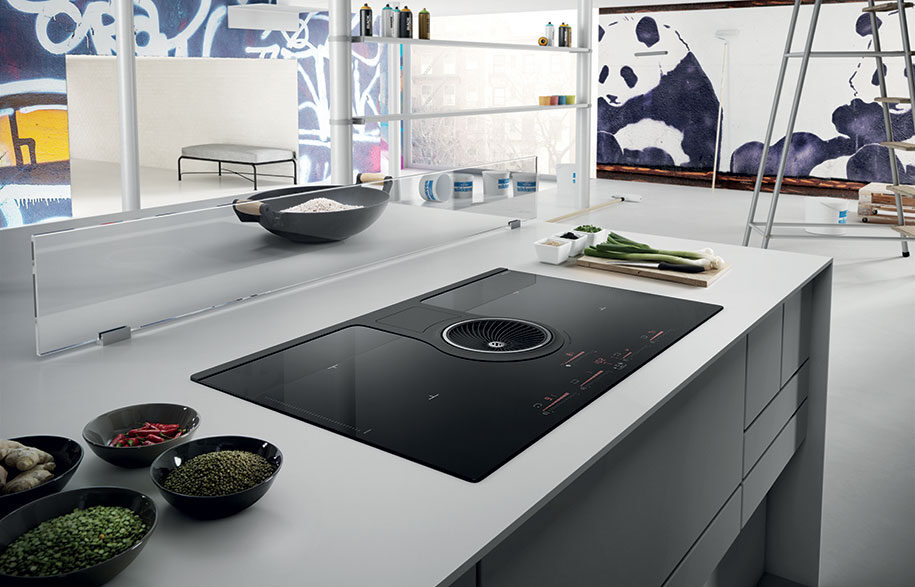 THE NIKOLA TESLA – HOME COOKING INSPIRED BY GENIUS
Taking its name from the legendary inventor, the NikolaTesla induction cooktop, with its designer flair and technical innovation, is worthy of the genius' name
Fusing hood and cooking surface into a single domestic appliance, the NikolaTesla induction cooktop acts as a fully integrated cooking and suction system. With the fan and cooker hood perfectly integrated into the cooktop itself, the appliance guarantees high performance in terms of fume capture, silence and energy efficiency, all while being housed within an aesthetically uniform design.
Centre to the design is the unique Elica technology, which ensures high cooking performance through induction technology and a constantly improving air quality. It's this Elica technology that separates the NikolaTesla from its competitors, and no groundbreaking technology would be complete without a matching design aesthetic.
The design seamlessly combines the functions of two essential appliances, hood and cooktop. The cooker hood is positioned at the centre of the hob, directly communicating with the induction cooktop and able to receive information from the cooking zones, automatically adjusting aspiration power and speed.
When using the NikolaTesla, food preparation and cooking is an easy and clean process, with no need for concern about fumes or bad smells – Elica will take care of the air quality.
Through the use of innovative technology, the NikolaTesla aspiration hob allows precise cooking, improved air quality, ease of use and facilitated cleaning, silent functioning and energy efficiency, truly earning the use of its genius namesake.
The NikolaTesla induction cooktop is available in Australia through Residentia Group.
Residentia Group
residentiagroup.com.au
Words by Andrew McDonald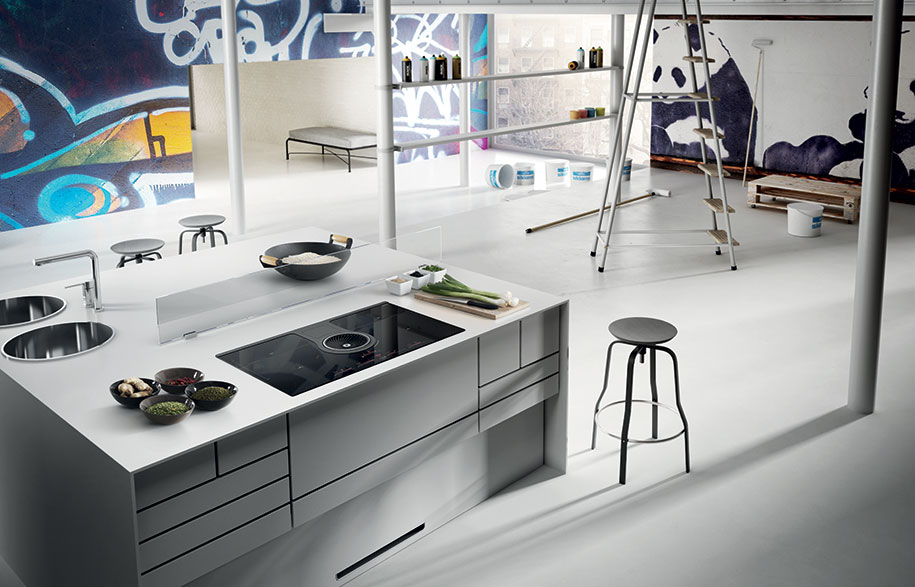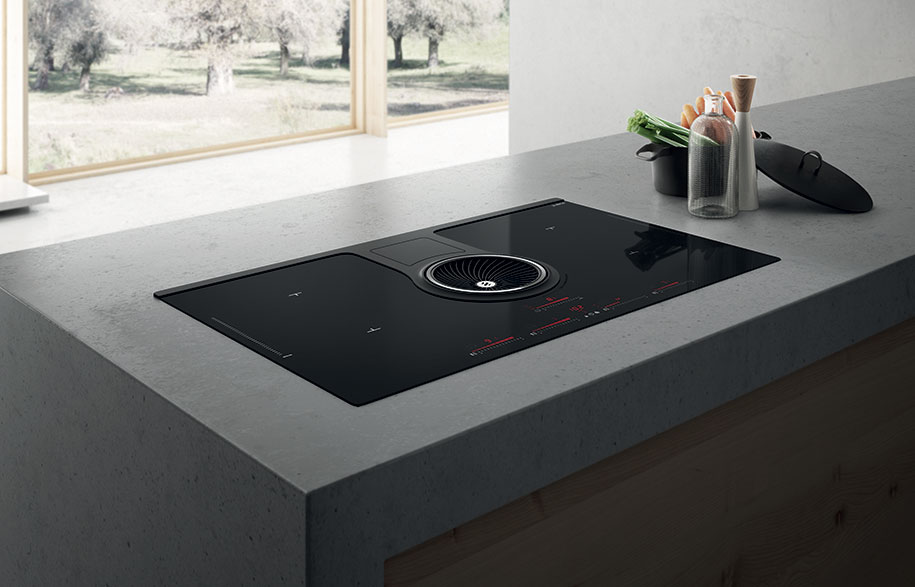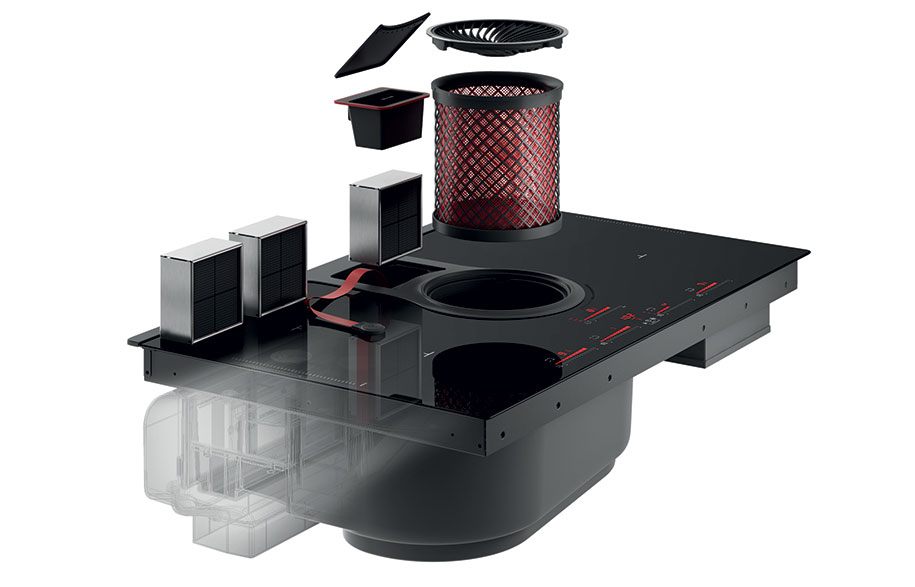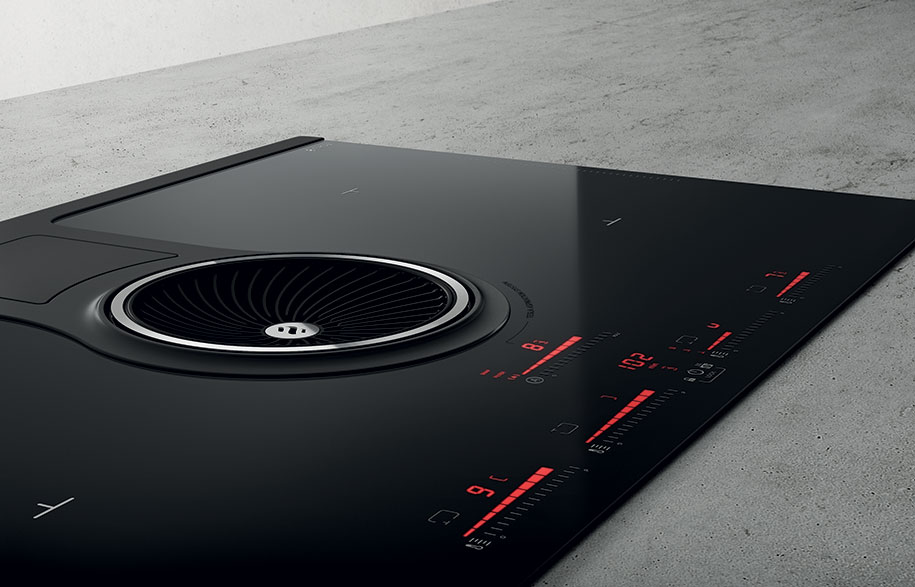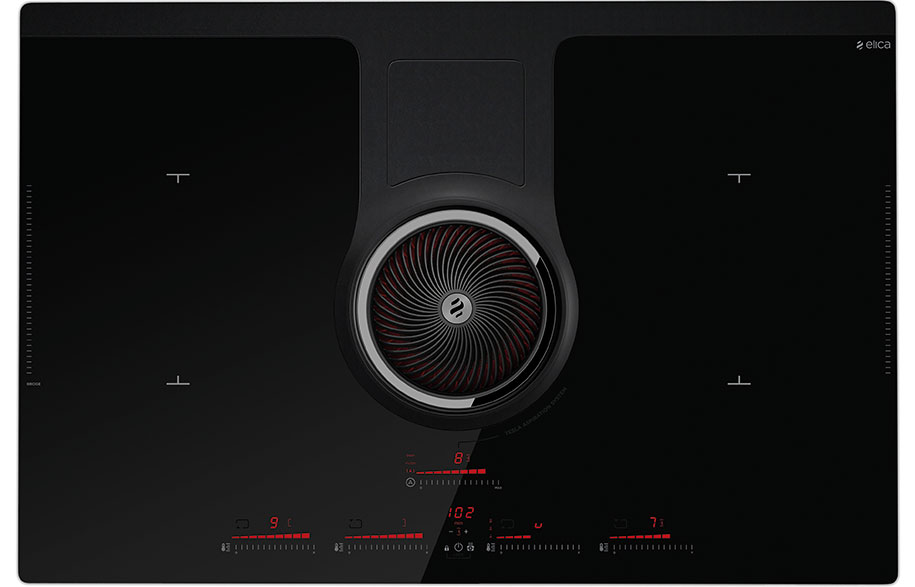 http://www.habitusliving.com/products/nikolatesla
MADE EXPO 2017
The four highly representative and integrated specialised exhibitions that take place under the MADE expo umbrella target specific visitor categories and attract new potential clients who are drawn to the enhanced cross-industry experience.
Constructions and Materials
MADE Constructions and Materials will be shining the spotlight on construction systems and technologies, solutions for upgrading and ensuring the safety of existing and new buildings, refurbishments, renovations and energy refits, all with the aim of lifting comfort levels and improving the quality of homes and offices.
Building Envelope and Windows
MADE Building Envelope and Windows is the only Italian exhibition that represents where the whole production chain is represented – from machinery to technologies, from components to the finished product as well as glass and accessories – making the exhibition the not-to-be-missed appointment for professionals and the world of planning.
Interiors and Finishings
MADE Interiors and Finishings is the exhibition that brings together design, technology and research to offer Italian and international designers, contractors and retailers a multitude of top-quality solutions and pioneering products in the area of finishings and interior architecture. MADE Interiors and Finishings is the unrivalled showcase for the finest products and concepts for transforming, upgrading and literally revolutionising rooms, enabling them to meet the needs of today.
Software, Technologies and Services
The spotlight will be on professionals and businesses, and on giving designers and companies an overview of the tools and services they need to put their best foot forward and increase their bottom line. The latest software offerings will include building structural design and calculation, building envelope architectural design, BIM tools, interior design and energy optimisation and project management and building site management, as well as 3D printers and plotters. Laser and GPS systems will also take a bow at the Exhibition.
http://www.madeexpo.it/en/made-expo/i-4-saloni.html
Acting almost as a signature of their work, this home in Tel Aviv by Pitsou Kedem, typifies the contemporary, bold and inviting design the firm is known for. As with many of their projects, large airy volumes, concrete and a considered use of light define the home. However it is the use and repetition of metal screens that characterises this project.
The program of the house is divided into two spheres: the lower concrete volume and the upper rendered volume. Through the use of glazing, the rendered upper section appears to float over the solid mass of the concrete lower volume.
The metal screening is made up of a geometric pattern that is repeated externally and internally and is used to not only provide privacy but also frame views, filter light and direct traffic. Reflecting the strictly monochromatic palate of the house, the screens are white for the exterior and black for the interior.
For Pitsou Kedem this is another triumph of strong architectural language mixed with a contemporary individual design. LOVE.
Story by Brendan Guy, follow him on Instagram MrBrendanGuy
Images: Amit Geron
http://designaddicts.com.au/platform/2017/02/20/pattern-repeat/?mc_cid=f568120fb1&mc_eid=166d025e53
http://www.ernestomeda.com/italian-kitchen/elektra