July enrollments are nearly over!
New group of students for Online delivery will start in one week, 3rd of July. Places are filling fast so from candidates wanting to start that date, we need the enrollment forms and payment by this coming week. Distance delivery students can start at any time.
 Enroll now and change your life:
Job opportunity in Melbourne!
We have been asked by a prestigious Italian kitchen company from Melbourne to recommend few candidates for part time, contract base kitchen designers! We will assist with training, so don't miss this opportunity. Give us a call if you are interested.
Expert Eye: How Much Does a Kitchen Makeover (Really) Cost?
Houzz Australia Contributor. Director, Designer and Creative Artist at Adam Scougall Interior Design & Decoration, Sydney
The cost of a kitchen renovation, much like any other renovation, can vary dramatically based on a number of different factors. The size, types of finishes, existing and potential plumbing situation, lighting needs and prices of appliances open the door to many different budget scenarios.In saying this, it is always good to have a ballpark figure based on the three tiers that make up a kitchen design budget. Let's discover what a 'budget', 'mid-range' and 'luxury' kitchen means in terms of your hip pocket, and what you should expect to achieve out of your investment (plus some tips to keep you within budget).
Tier 1: The Budget MakeoverStarting at the lower end of the pricing scale, the budget makeover may range anywhere from $10,000 to $25,000, depending on the size and scale of the work involved. A small kitchen with basic cabinetry, laminate benchtops and economically priced appliances may fall within this price range.Tip: If you do not want to relocate your kitchen and are not moving plumbing, you are likely to stay within this budget range.
Budget-saving ideas
If you are a DIYer and have the resources to put the carcass together yourself, you could save money.
Ikea cabinets now come in many different finishes and include standard sizes, so making the use of its cabinet system is a budget plus.
This approach is ideal if you are looking to save on the cost and the labour of making custom cabinets. It's always advisable though to know what you are dealing with when considering this as an option. Who's going to assemble all of those flat pack cabinets? You will need to have fairly good DIY skills and/or resources (i.e friends and family) that will not ask to be paid to make this work.
Tip: Look at painting subway-tiled splashbacks in a gold tile paint. This gives the illusion of grandeur, as the metallic and reflective quality can produce a similar effect to the real thing.
Expense-inducing ideas
Creating any form of custom cabinetry, benchtops in engineered-stone Corian or Caeserstone, and real wood cabinets will move your project into the mid- to high-end range of pricing.
Tier 2: The Mid-Range MakeoverWhen it comes to a mid-range budget you may be looking at anywhere between $20,000 to $50,000. Surprisingly, even in this price range you need to consider the finishes, as the price of these mounts up. We always get what we pay for, but with a tailored eye you can mix and match finishes and still come out in front in the style stakes.
Budget-saving ideas
Caesarstone's Calacatta Nuvo, a marble-look quartz, is an excellent substitute for a marble finish. The range works out to be significantly less than Calacatta marble.
Using veneer (instead of timber) and marble-look finishes can assist with minimising budget blowouts.
Laminex's timber-veneer range replicates real wood finishes and is a good choice. Forgoing real wood cabinets for veneer can cut costs substantially, but you need to be aware of the outcome from the onset when it comes to wear over time. Veneer will eventually chip or peel, but this may not be a problem if you expect to renovate your kitchen again within 7-10 years.
Marble-look tiles give a hint of the real thing without the price tag, but again, they are an imitation and need to be used thoughtfully.
Expense-inducing ideas
Using natural stone such as Cararra marble and wood such as walnut or American oak will lift the budget significantly.
Team these with intelligent lighting (i.e custom designed for your specific needs) and high-end appliances and you will move into the upper end of pricing for kitchens.
Tier 3: The Luxury KitchenHigh-end, luxe or luxury kitchens deserve their hefty price tags. With bespoke cabinetry, intelligent lighting, natural stone and real wood finishes, you can be looking at anywhere from $50,000 to $100,000 plus for the ultimate luxury kitchen.A kitchen that is integrated with an open-space living area will command the required fee, as you will need a designer to produce a plan that functions successfully. Ever heard of a Sub-Zero fridge or oven? High-end appliances can also catapult your kitchen into another pricing stratosphere.
Expense-inducing ideas
Gold hardware and integrated appliances will amplify budget costs for your renovation project.
Customising anything will command higher-end pricing and keep your kitchen firmly within the luxe budget tier, you will not be in danger of slipping down to mid-range budget.
This classic kitchen required an artisan-produced stone sink as well as top-of-the-line finishes for this Parisian-inspired kitchen project.
Browse more high-end kitchens
Custom Shaker-style cabinets, natural stone and an expensive range hood put this kitchen in the high-end price tier.
A kitchen island with an integrated sink and timber dining table requires a designer touch, and moves this kitchen into the higher-range tier.
Name: Melanie Brown
Company: Design Direction Ltd
Position within company: Managing Director
Website: Design Direction
Tell us a little about your background in design (education, experience, etc)
Melanie Brown set up Design Direction Limited in 1999 after working in the design industry for many years. Since then Design Direction has carried out a vast amount of work in the residential and commercial area of interior design nationally and internationally. We offer a tailor-made interior design service helping at all times to understand, interpret and realise our clients' aspirations.
How would you describe your personal design style?
I believe that every project is unique in character and it is my job to understand, interpret and help each client to achieve their own design aspirations. I like to think we help our clients to stand apart from the competition, creating luxurious and desirable properties with genuine personality.
Where does your design inspiration come from?
Travel is my inspiration; I feel uncomfortable if I don't have a ticket booked to go somewhere new. Travel has taught me so much, and I always come back after a trip with a head full of ideas. Being a designer means you care about the details. Designers know that they're surrounded by design, and they can't stop their minds from wandering. Design is everywhere and in everything, I soak it up instinctively.
In what direction do you feel that design is moving towards in a general sense?
Less is more in the general sense. Storytelling is the heart of everything for me. I think people are looking for more meaningful design. The story behind a piece of furniture, a fabric or a painting make a room. These are the things which make a space intriguing, beyond just lovely to look at. I feel it's important to design and commission bespoke furniture, fabrics and interior accessories to ensure each project has its own personality.
If you could offer one piece of advice when it comes to design, what would it be?
This is simple – set out to astonish and whatever you do it will be creative; there is no right point of view just a different one.
How important are The International Hotel and Property Awards as recognition of talent and achievement?
The International Hotel and Property Awards are without doubt one of the most prestigious awards of their kind in the world. It is crucial that the world's great designs are highlighted in competitions like this in order that our profession continues to drive for the ultimate in excellence and innovation. It is an honour and a privilege to be shortlisted in these awards and the fantastic quality of the shortlisted projects is a fantastic endorsement of the superb work being done in the world today.
What projects are you currently working on? What are your aims and goals for the next twelve months?
Borthwick Castle, Phase 2, Edinburgh, Scotland: One of the finest and best-preserved 15th Century keeps in Scotland (Grade A listed), and in 1567 a refuge for Mary, Queen of Scots.  A major refurbishment of a magnificent Grade II listed family home in London.
Working alongside a new development company on the conversion of an Italian Renaissance style Grade II listed bank built in 1890-91. And a landmark art deco synagogue built in 1914-15, to create large executive living spaces with design personalities
Final thoughts; tell us a little more about yourself:
Your most treasured possession?
My 30-year-old leather-bound Filofax which holds a list of friends who love life, who I can call up and say, "Get dressed, we're going on a venture, adventure or a misadventure…"
Your favourite holiday destination?
Vietnam: Flashpacking adventure
Northumberland coastline: Walking
Stockholm: Food
Switzerland: Skiing
Your favourite hotel / restaurant / bar?
Grand banks Oyster Bar in New York – an amazing place to eat oysters and drink Pouilly-Fuissé
Cecconi's Restaurant, London – the lobster spaghetti is amazing any time
The Canny Man's Pub, Edinburgh
Your favourite book / film / song?
I visited Goa in January and a new favourite is The Essence of Indian Design – an exploration of the timeless beauty of Indian design through 200 classic objects.
Desk book:  Whatever you think, I think the opposite by Paul Arden – it's about having the confidence to roll the dice.
Coffee Table book: Cecil Beaton at Home – a chronicle of the life and times of Beaton in photos.
Film: Arsenic and Old Lace with Cary Grant (in fact anything staring Mr Grant).
Music: Amos Lee, the America folk singer songwriter and Melody Bardot, the blues and jazz singer.
Your favourite food and drink?
London: The Fumoir bar and Claridge's vodka martini
Scotland: Borthwick Castle Lagavulin
And always a fresh watermelon martini anywhere you can find them.
Your favourite way to spend an afternoon?
A late morning with a cup of tea in bed and the Sunday newspapers and then an afternoon catch-up with friends.
If you weren't a designer, what would you be?
There was a time I loved the idea of being an architect. I was accepted to The Mackintosh School of Architecture in Glasgow, but I deferred and took up a job designing champagne bars for Corney & Barrow in London … I never looked back.
What's your greatest fear?
Falling off another mountain and breaking my knees again any time soon; not funny and not clever. I love the mountains and all things outdoors; I had an amazing break and made lifelong friends when I decided to have a gap 6 months and train to be a ski instructor in Switzerland.
http://thedesignsoc.com/designer-profile-melanie-brown-design-direction/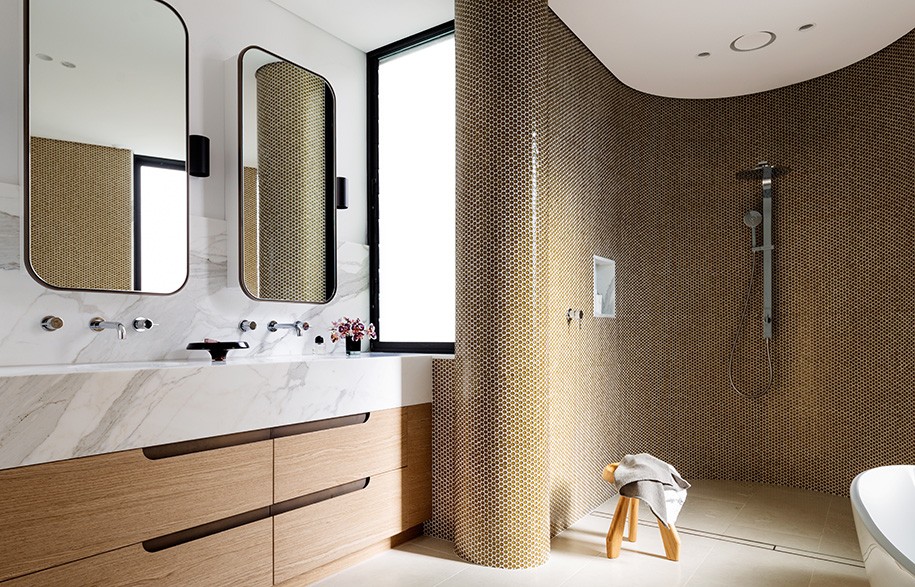 A KIND OF CURVATURE
Indulge in the full story from one of the bathrooms featured in Habitus #36, the Nourish issue. On a corner site overlooking Sydney's Tamarama beach, this sculptural house by Porebski Architects emerges out as an inspired form from its natural setting.
Shaped into an 'L' that compliments the natural curvature of the site, the Tamarama House by Porebski Architects establishes a central courtyard that flows around to the pool at the rear of the site. The courtyard acts as a private outdoor area that is purposely oriented to enjoy maximum sun while providing protection from the sea-breeze.
The stone base emphasises a lightness to the upper storeys which consist of large bay windows formed against curvaceous white rendered masonry. The house is inverted with the main living area on the upper storey to optimise on the enveloping ocean views.
The curve of the house creates an incredible sense of flow and transition that helps to open up the living spaces and merge the built form of the site. The front rooms transition freely to the rear family room, opening up as a collective family space or to make space for larger cocktail parties.
Read the bathroom feature in Habitus #36, the Nourish issue, out now.
Porebski Architects
porebskiarchitects.com.au
Words by Ella McDougall
Photography by Justin Alexander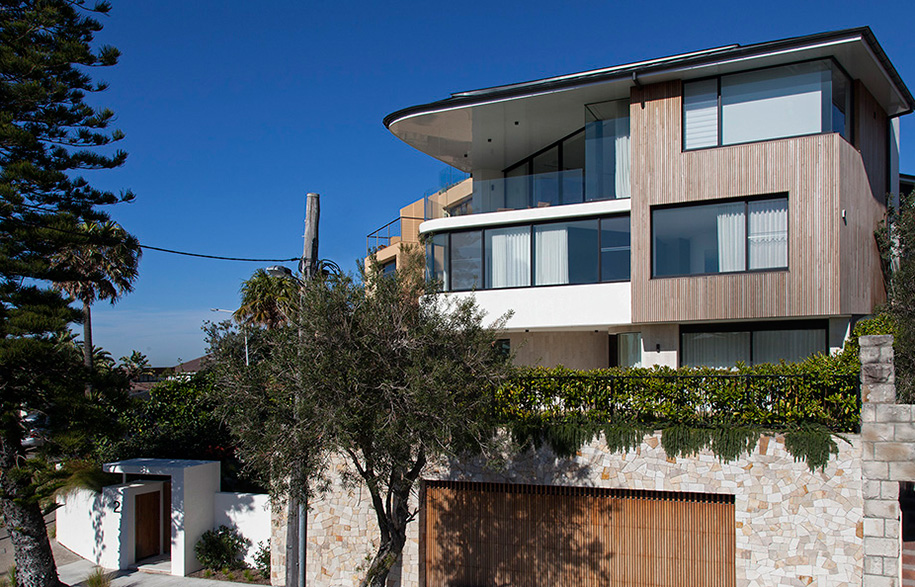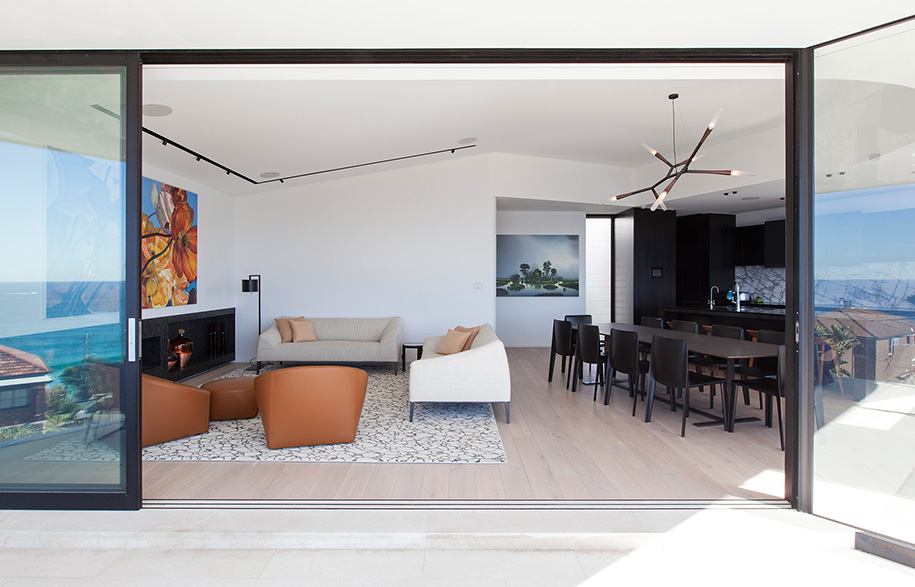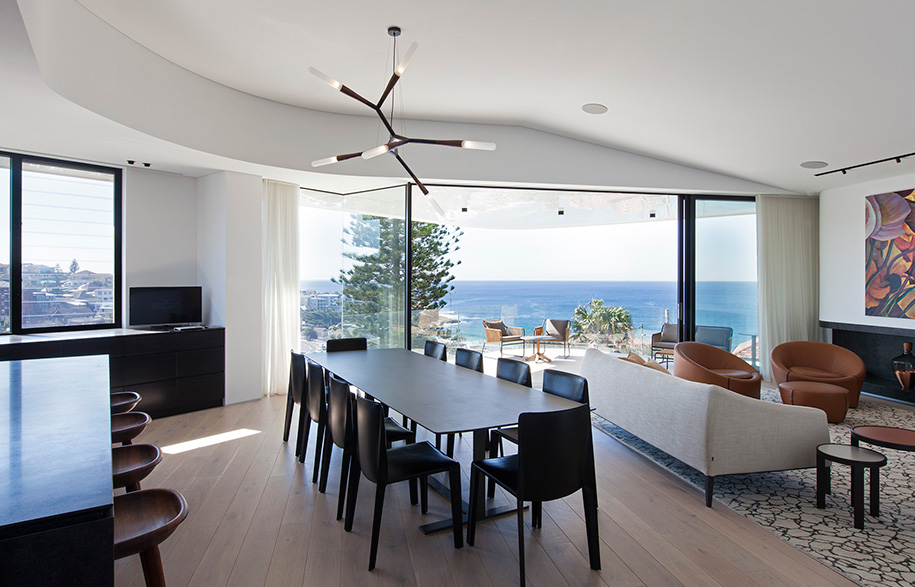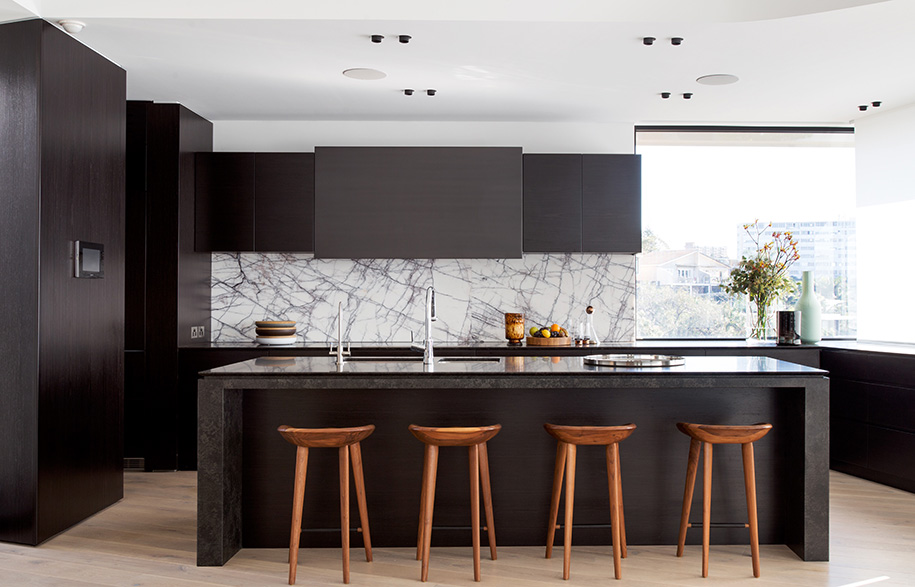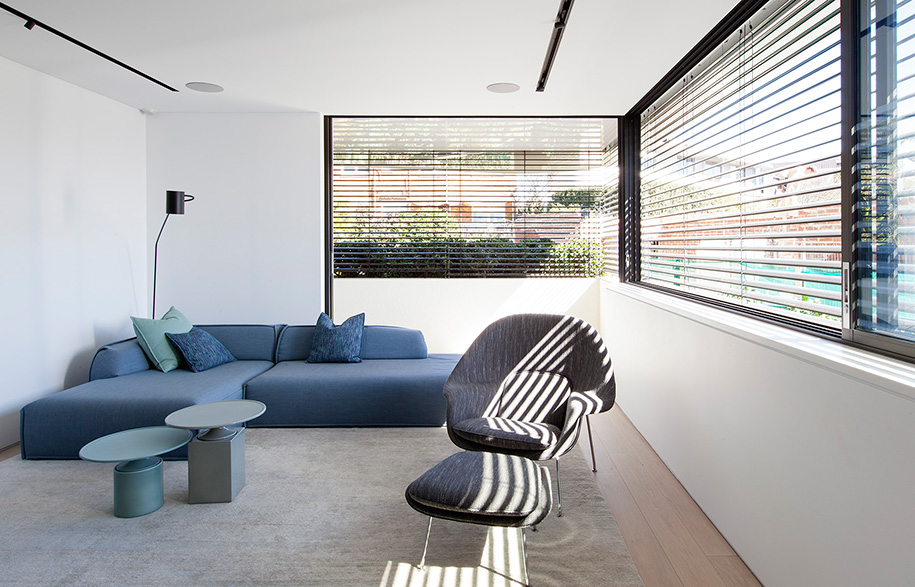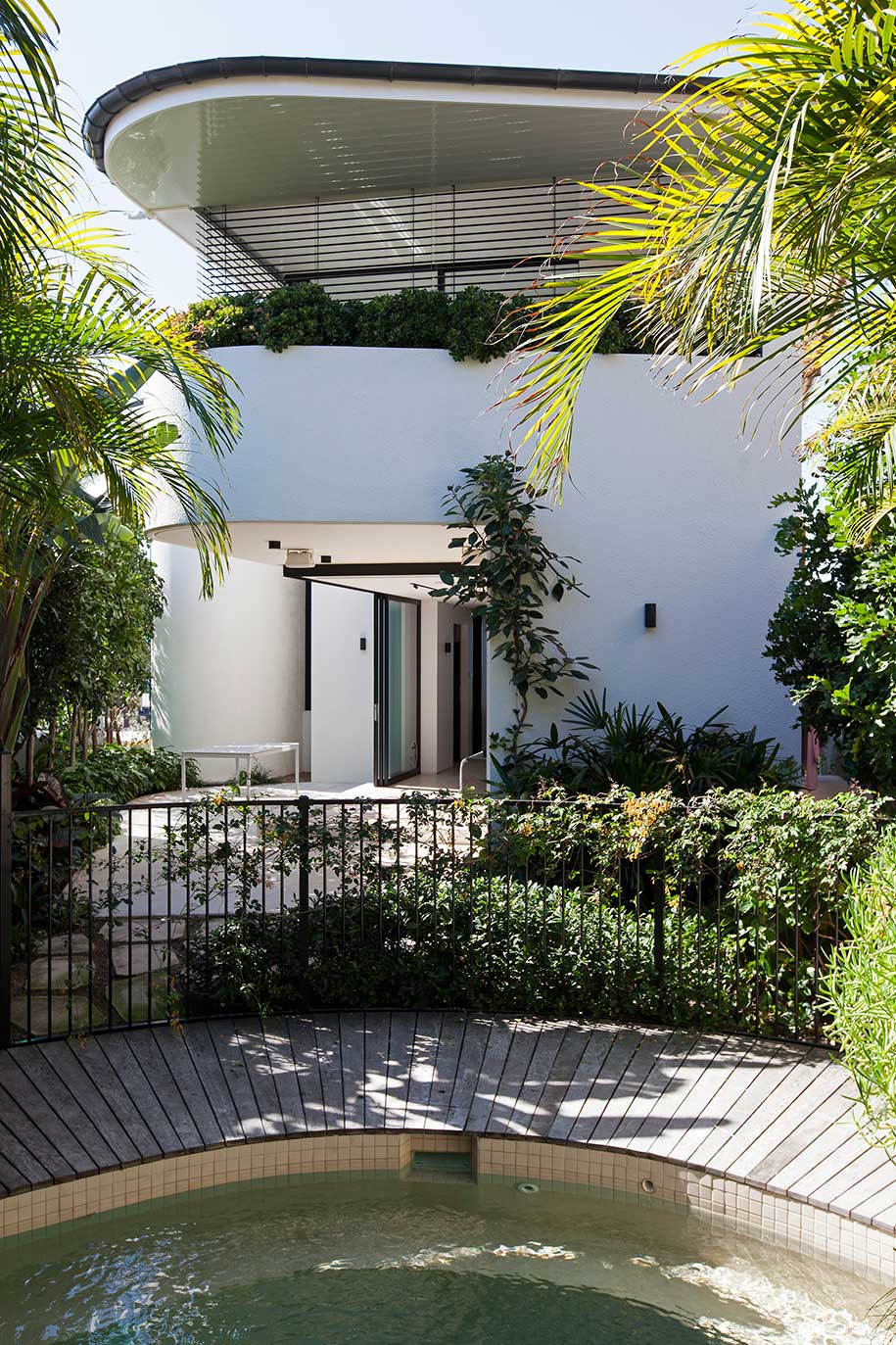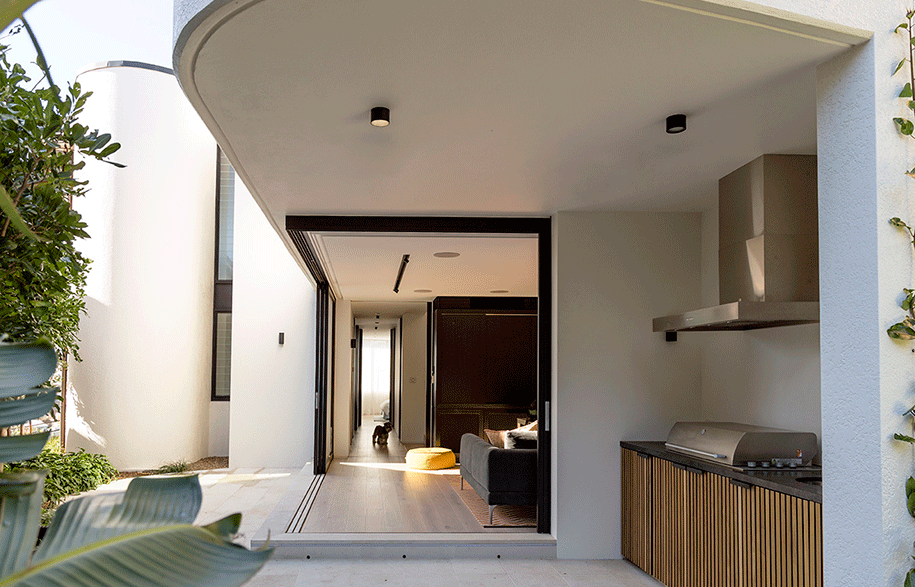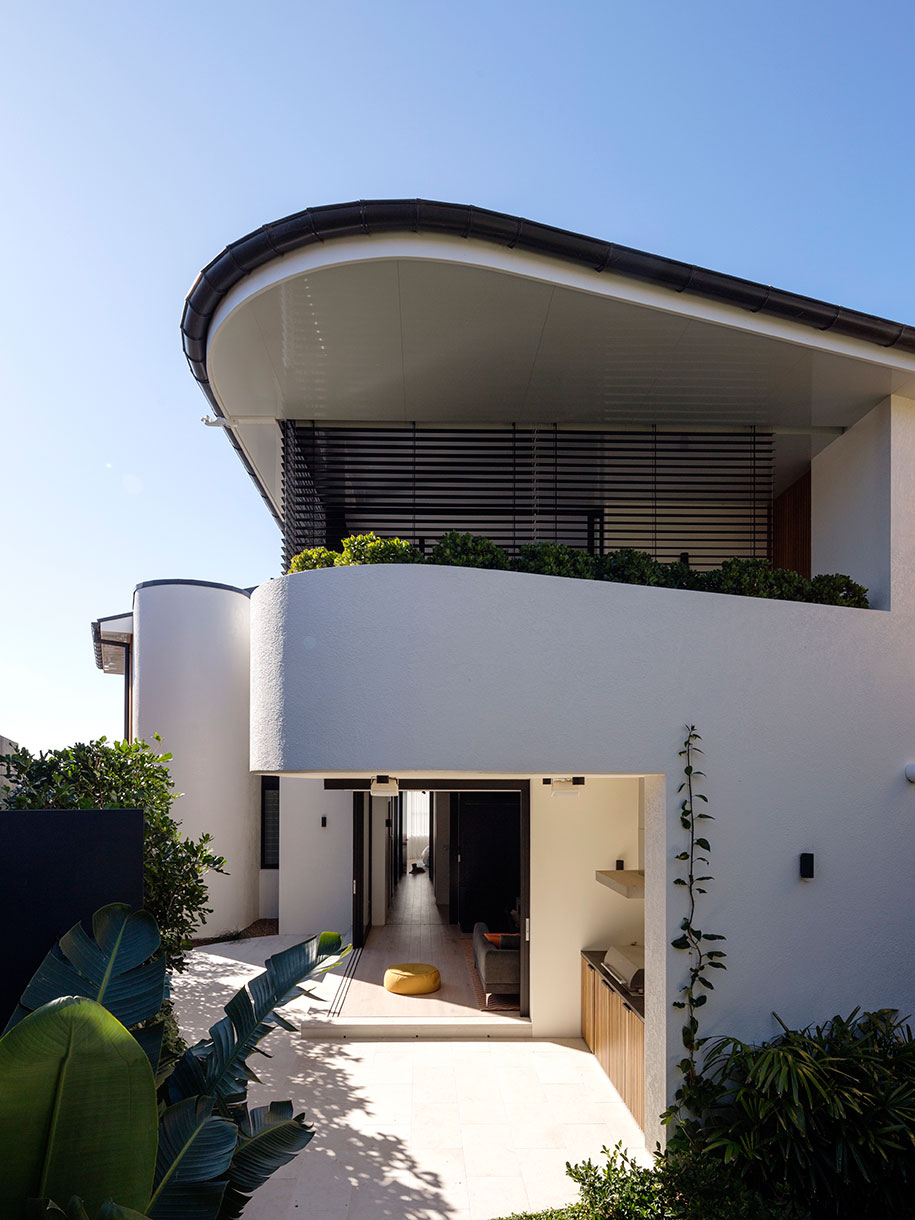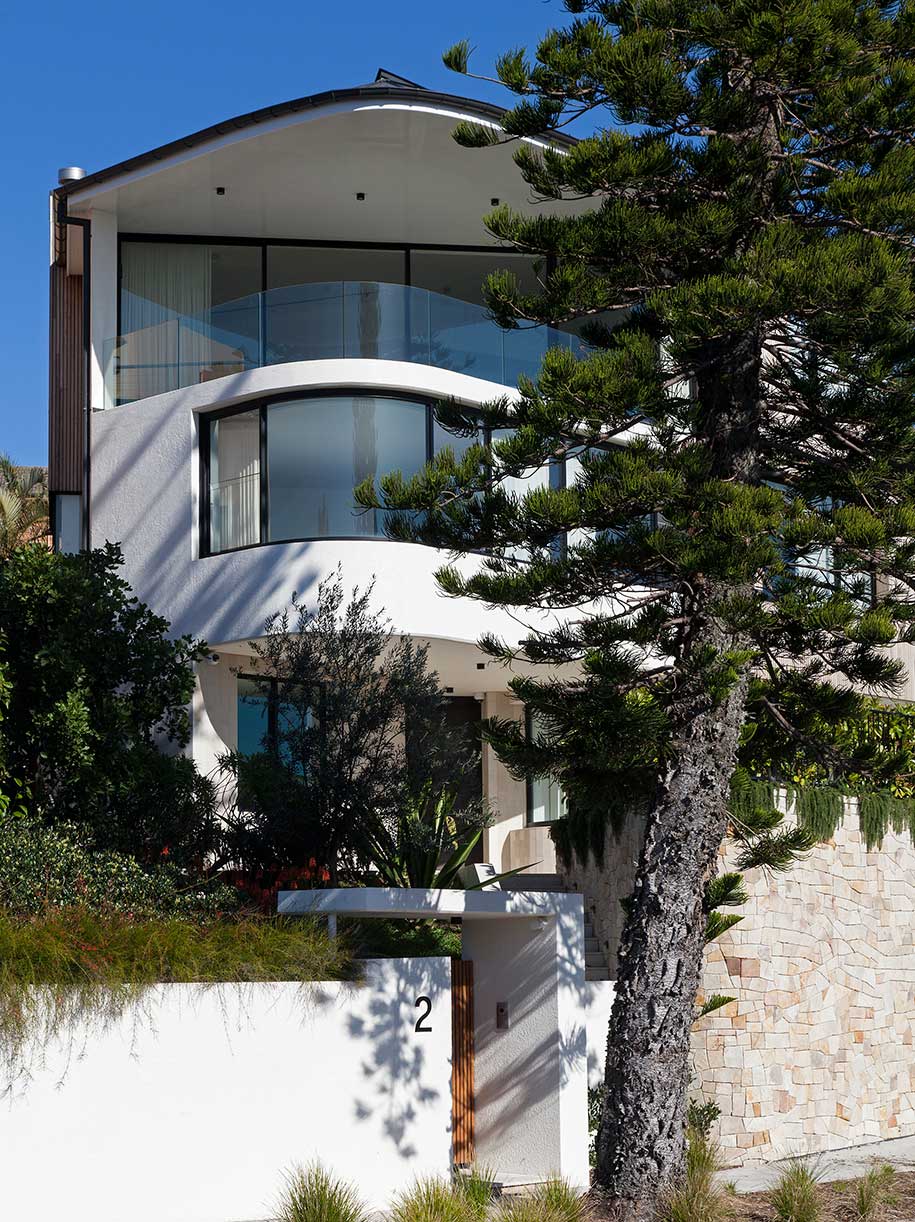 http://www.habitusliving.com/projects/tamarama-house-by-porebski-architects
http://www.habitusliving.com/community/nest-architects