We welcome our new group of students starting tomorrow, we wish them all the best!
Enroll now and change your life:https://www.kitchendesignacademyonline.net/contact/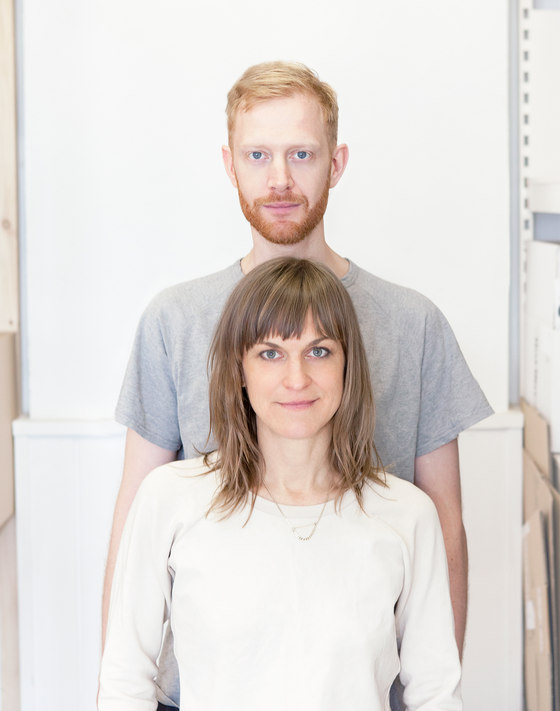 llot llov design studio
Profile

The llot llov design studio acts on many levels. Their projects include interior design, design and production of serial products, individual pieces and conceptual events bordering on art and culture. llot llov offers the implementation of every step from research and design to product development and production oversight. Their products and interior designs are determined by the choice of materials and their specific composition.

llot llov's design is both functional and emotional. Often playful, always visionary, they work conceptually to aesthetically improve our day-to-day world. Their guiding principles are: Content, efficiency, clarity and sustainability. Usefulness is a priority without foregoing complexity. Their works can be ordered via Gallery S. Bensimon, Norman Copenhagen, ABC Home or Rinasciente.


Biography

Ramon Toshiro Merker, Designer

Ramon Toshiro Merker is working as carpenter and interior designer. He regards his strength to lie in his craftsmanship, in process oriented working, and patience.

Jacob Brinck, Designer

Jacob Brinck is working as product-, furniture-, and graphic designer. His strengths lie in conceptual work, computer-aided design and endurance.

Ania Bauer, Designer

Ania Bauer is working as interior-, product and surface designer. She has an arty approach and sees her strengths in process oriented working, organisation, and enthusiasm.

Lena Hirche, Designer

Lena Hirche is working as strategy designer and empirical design researcher. She considers her strength to be conceptual thinking, evaluation of design and spirit.
Philosophy
"Because of our love for old things, our fancy for the ordinary and our joy in finding new interpretations, every piece of our work bears llot llovs special signature. Our idea of design is multidimensional: we avoid the drawing of boundaries, setting our preference on the experimental. llot lov look at the world, take risks, learn, understand and interpolate the world in an illogical, intuitive and creative way."
MABU APARTMENT
Berlin, Germany
2015
PROJECT BY LLOT LLOV
BERLIN, GERMANY
Three friends in the Berlin Wins Quarter share a redone and newly designed apartment. In order to create enough space for everybody two units stretching over three stories were combined. The studio llot llov planned, designed and decorated the new arrangement and turned it into a liveable, uncluttered and cosy place. For friends to become room-mates rather than neighbours llot llov made out of two independent apartments one single apartment with 220 square meters.

The kitchen and the living room became generous spaces for social interaction. In their very particular llot llov style, they managed to create an apartment with definite character. Slight nuances between cool and pastel shades contrast with warm materials like sea pine or waxed copper.

Instead of using prefabricated furniture, llot llov used products of their own label combined with made to measure solutions which reflected their clients' requests. A specific focus was to create space for guests. For this reason, the dinner table made from varnished boards as well as the living room couch were planned from the beginning to be unusually big. The dining area becomes a banquet hall with a rustic bench. The wired stools "Grit" with cork surface can be added.

The living room turns into a lounge, discreetly decorated with grey benches and white walls, colour is added with pillows and upholstery. Following the Tetris principle, the large pillows on top of and next to each other form a kind of landscape. The powdery colours in beige, pink and blue suggest summer. Planters as well as hanging flowerpots cater to the clients wish for an LA –feeling.

Like the living and dining areas the kitchen is also designed to serve many people. The counter does not run along the wall: but is jutting out like an island with its small side fixed to the wall. For the surface waxed copper was chosen to show the wear and tear. With time the now shining red metal will be coated with patina and might slightly change the appearance of the room. Spotlights and safety outlets are hanging from a black metal construction and lend the kitchen a workshop like appeal.
llot llov
Photographer: Ender Suenni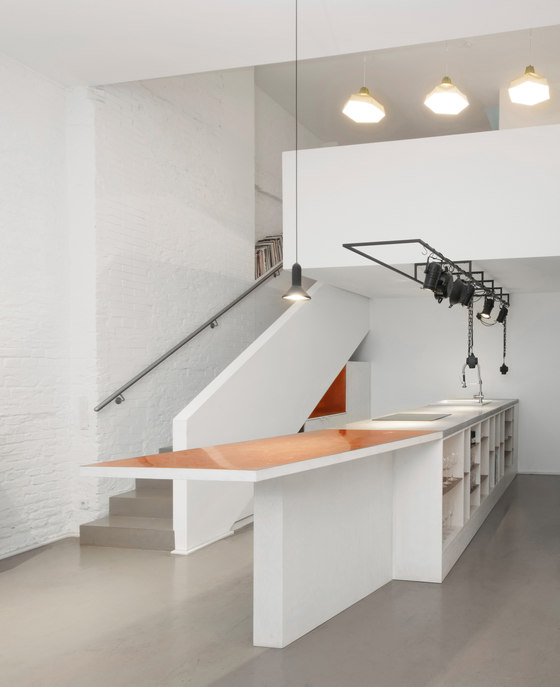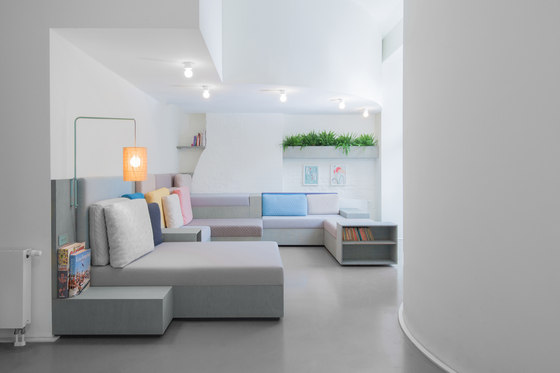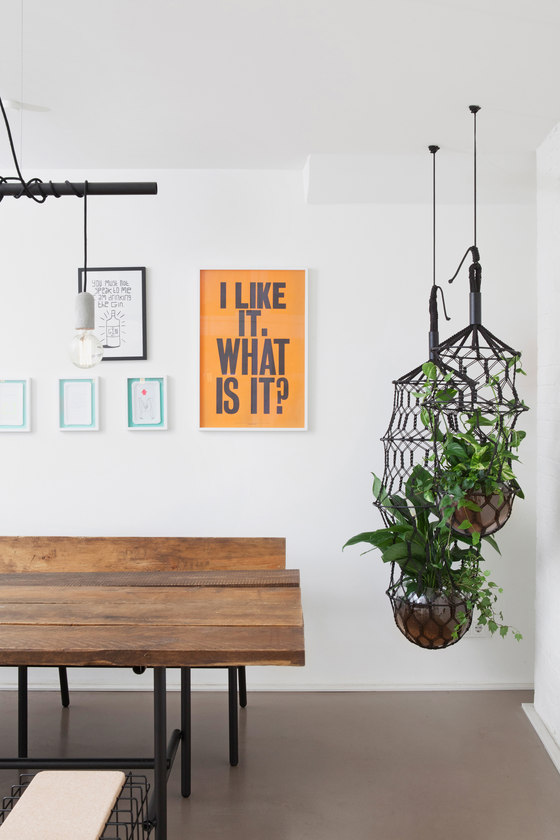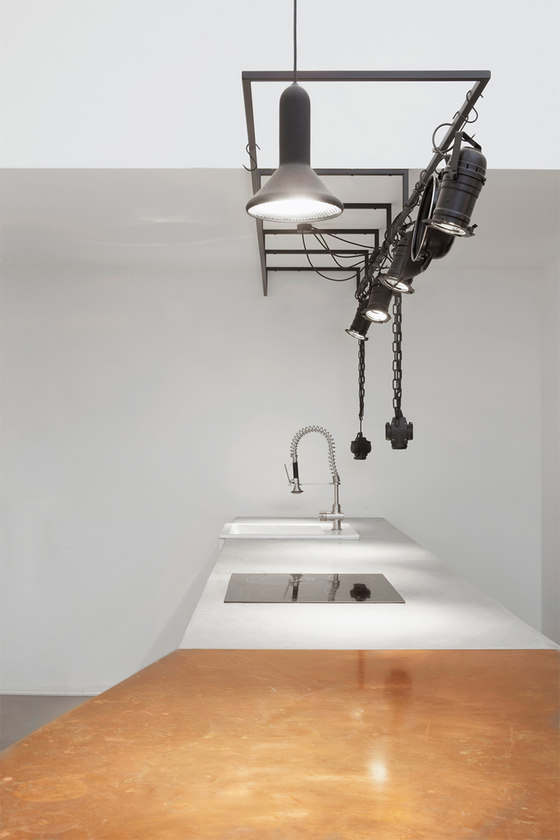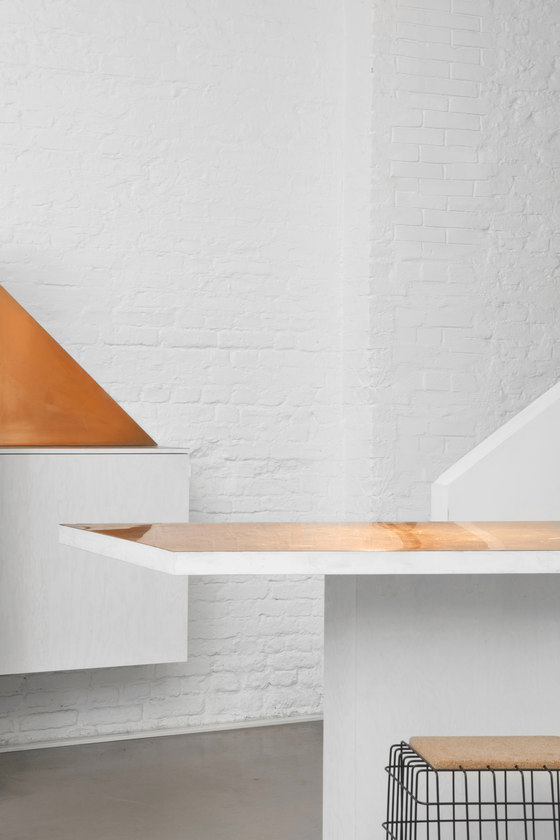 https://www.architonic.com/en/project/llot-llov-mabu-apartment/5103837
https://habitarte.co/world/en/
Herdade da Considerada is a parcel of arid land with 500 hectares, about seven kilometers from Alcácer do Sal, dotted with cork oaks and umbrella pines. The resulting landscape is uniform in every direction and, as the architect Luís Rebelo de Andrade found on a preliminary visit, it is easier to lose your car at Herdade da Considerada than in a supermarket car-park!
This experience led to a key idea that informed the entire project: in the absence of natural markers (land marks)– it is the architecture that takes the place of the reference points , complementing the landscape with a building that is overwhelmingly visible.
The house itself and the farm building were designed to minimise building time-frames and costs and to privilege energy sustainability. The solar panels and thermal collectors produce more energy than the house consumes, for this house is averse to energy wastage.
With its gable roof, doors and windows, the exterior design of the house seem as childlike as the drawings children produce . This apparent simplicity is actually based on the collective and romantic imagery we all share: the house on the prairie, the life of the pioneers and settlers of the American Far West, so often depicted in westerns and which live on in our constitutive memory, in spite of the time and of the intentional awareness we might have about them.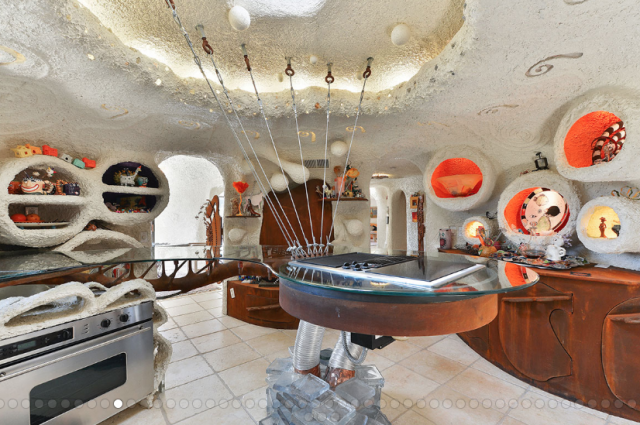 https://www.carolynskeys.com/look-at-these-crazy-kitchens