Why Learn?
Why should you keep on learning? You have a college degree, maybe a terminal degree such as MBA or Ph.D. You have a job that you know how to do and you're good at it. You get a regular paycheck, and, if you're lucky, have a long-term contract and stock options. Other than your supplier's new products and services, what is there left to learn?
 Tim Hoff, of American Trainco, offers these eight reasons for continuous learning:
1. To enhance skills, especially those not fully developed in school or prior experience.
2. To provide job security by increasing value to company
3. To increase career options within and outside current employer
4. To improve adaptability to changes in organization and industry
5. To achieve more professional success
6. To have higher job satisfaction
7. To increase income
8. To stay current with industry trends and best practices
– See more at: http://stephenjgill.typepad.com/performance_improvement_b
/2012/07/why-learn.html#sthash.pfi5smdR.dpuf
Want to learn more about kitchen design and improve your performance?
Enroll now: http://www.kitchendesignacademyonline.net/contact/
Karl Auer
Austria
As Team7 design director he is responsible for the design of the classical Opus1 collection as well as for Cubus, Sesam and Valore.
The Vienna-born interior designer views housing as very creative and dynamic spaces. Early in his career he was chief designer of the evergreen Opus 1 range. That gently rounded furniture caused a trend in the 80's – and in less than 25 years has been elevated to the level of a natural wood classic. The Cubus series was also designed by Karl Auer: clear, large area, straight lines without unnecessary jumps, niches or flourishes – the furniture evokes the sensuality of living noble natural wood. Traditional craftsmanship lovingly finishes each Cubus piece lifting it up to the level of beautiful art. A nearly inexhaustible variation of shapes for every need and space – whether as a cupboard, pantry or display cabinet. The body and individual elements are combined in any combination maximising freedom to fit into non-standard spaces. At IMM Cologne 2007, Cubus was extended to include many new living spaces including hallway entrance furniture. With these and many other programs, Karl Auer has for 34 years shown an unerring instinct for creative living.
Custom timber kitchen for Team 7
http://www.archiproducts.com/en/products/53086/custom-wooden-kitchen-rondo-team-7-naturlich-wohnen.html
http://www.wharfside.co.uk/meet-the-designers/karl-auer
Italy
Because the nineteenth century
The 8 points that make the difference
01 wood
We search and select only the best wood, with features suited to our production method. The solid we buy with a minimum aging of 18 months, after being subjected to the steaming cycle, to eliminate bacteria in natural wood, and the cycle of drying ventilations with alternating hot and cold. In so doing, we work with a solid internal degree of humidity never more than 10% to minimize the risk of movement and beddings. Finally, business ethics, the timber we use comes only from areas undergoing reforestation controlled, according innovative criteria of eco-compatibility.
02 structures
We create all our wooden structures them stellar fir 19 mm thick veneered in ash. The panels that work, come from Italian companies that produce strictly in accordance with Italian regulations that ensure certified origin and use of substances and adhesives are not harmful. Each structure we finish on the front edge with solid essence different depending on the model. The assembly is then carried out by heat-resistant joints and adhesives that ensure the soundness over time. Finally, our backs are made of birch plywood and finished with minor decorative engravings.
03 doors and elements in solid
We carry within us the doors one by one, with the utmost care and with machining and joints different depending on the model.In any case, our doors have a thickness varying from 30 to 32 mm. European walnut, European cherry, European oak, walnut and European ash are the essences that work to build parts in solid and all the doors, taking care, where are lacquered, lastronare of the solid with the same essence crossing the direction of the grain on edges of the leaf. This choice laborious, was made to limit the maximum possible movements and curvatures between the components of the leaf due to sudden changes of temperature and humidity of the premises. Finally, we believe that we be left alone to build our doors with half a bar of the frame, as if each of these doors was a small window. In addition to the fine, it still remains the most effective dust protection system that does not include gaskets or plastic profiles and unsightly.
04 drawers
The fronts of our drawers are always shaped solid wood in the essence of the model selected. The smooth fronts are in solid lime in thickness 25 mm and veneered in essence, cross on both sides to ensure stability. The internal structures we build in solid ash and assemble with dovetail joints, branding focus with the company logo the side rails. Finally for scrolling, use self-lubricating rails, retractable and full extension, with return mechanism amortized for closure.
05 mechanisms and functional accessories
In the logic of technological progress, we have combined our construction techniques of woodworking all those systems and mechanisms for opening and movement of the latest design, which allow easy use of space and better ergonomics in the kitchen.To do this, we draw from the proposals always updated of the most qualified companies. Let's also a chance for you to choose various internal equipment bases and columns giving way to fully customize the organization of the containment.
06 pre-assembly in carpentry
The individual pieces are built between them assembled and pre-assembled following the overall project, setting up everything as if we were inside the environment in which the product is intended. Such containers are tested drawers, doors, any motion systems and opening and then are adjusted all the frames and profiles required. All this, combined with an accurate control and preventive measures of the room to be decorated, allows us a real comparison to minimize the margin of error. Finally, dismantle and we number on the back of each component and send it to our in-house finishing and painting.
07 finish
All the products we use for this process are eligible to finish household products and daily use. Staining of the essences is always obtained with oxides dissolved in water and spread out by hand. The primers are based on high molecular weight polyurethane polymers. The paint for wood finish or colored for enameled is of type acrylic with a different degree of brightness depending on the model or the essence. Essentially, all the products that we use, guarantee a high degree of resistance to light but especially make suitable use of the finished product, built in wood in order to be used in the kitchen.
08 overall domestic production
We are proud to say that our kitchens and our furniture is built and finished in their entirety within our factory. In the new production, we are given the solid wood and panels to be processed, in part by technological machinery but especially with the dexterity of experienced carpenters, who can add value in every product. Always internally, and we end we paint everything that was previously built and also in this case, remains the fundamental skills and experience of highly qualified personnel who work there internally. We see the birth of your kitchens and we take care of the growth step by step, with careful checks, possible at every stage of processing, with a constant system of relations between the technical office and operational staff and we do not get out before it's no furniture finished, carefully waxed and fragrant and duly protected, with the most appropriate package to get you in your homes as you have always wanted.
Industrial Chic
With the pattern Industrial Chic, The Nineteenth Century innovates in the sign of a design reminiscent of the lines of the post-industrial style, revisited in a stylish home. Nonchalant modularity and character are the keys to understanding the design idea of this kitchen where you meet sophisticated lightness and refined personality. 
8 new finishes ash, colors and glossy lacquers. 
3 new colors piano finish for interior drawers. 
1 new finish stainless steel effect "experienced" 
Large sliding doors with external mechanism, concealed spaces equipped with different configurations and colors.
Canaletto
Kitchen contemporary style, proportions important and streamlined. The result is full of personality and elegance and walnut, without contamination of knobs and handles, takes center stage in all its naturalness.
Evita
Tribute to the iconic figure of Argentina, the female protagonist of the story, Evita expresses character and personality through sober and essential, enhanced by the use of walnut left natural to emphasize the soft grain. 
A refined and warm elegance enhanced by hand-crafted of solid wood and by the combination with the precious marble top veined Imperador.
Floral
The paneling from major proportions, closed pore lacquer, dominates environments and gives structural harmony and aesthetics.Cancel ideally the boundaries between furniture and space and the kitchen becomes environment to dress and articulate with functional and architectural elements, not to mention the possible association with design elements.
http://www.lottocento.it
It's everything. Oh my goodness it is everything, all at once. Everything you need in the kitchen, even the coffee! It's got coffee in it! But it only appears at first to be a very sleek, very sophisticated long table! That's crazy. But you get up close and you start to see it, yes, you see! Buttons! Hatches! Ways to expand! Truly this is what you've been looking for in an elegant kitchen experience. It is the "Mono" office kitchen concept.
Of course, it is for the office, where things get DONE. So It's streamlined, isn't it? Yes. Indeed this table is meant to be used as a table for eating during mealtime and a conference table during the rest of the day. Interactive touch screen interface allows you to pull up some lovely recipes, call upon their local deli or other food source to have food delivered, everything else pops out on the right. Sink, dishwasher, containers galore, everything in shiny, shiny prettiness.
https://www.youtube.com/watch?feature=player_embedded&v=f8PvuO2SrBE
Read more at: http://www.yankodesign.com/2010/03/31/a-full-on-kitchen-table/#VHOwld0cv0ZKzq5H.99
Magnificent and modern kitchen
The combination of a floating bench and high gloss, this kitchen by Urban Kitchens is nothing short of magnificent.
Designer: Con Moshopoulos for Urban Kitchens
"These homeowners had very clear ideas regarding the contemporary features of the new build. Smooth-floating joinery was key to the design to create an ultra-modern look. To complement the floating nature of the island block and cupboards lining the room, the homeowners wanted to incorporate a contemporary cantilevered addition, which is fashioned from beautiful bluestone and perches elegantly atop the floating island block. Using a high-gloss two-pack paint finish and handleless options for cupboards and drawers in the kitchen, Urban Kitchens was able to finish the space with fine lines and a modern aesthetic. With the added help of the Blum Servo-Drive system, the cupboards open with a beautiful and smooth action at the touch of a button."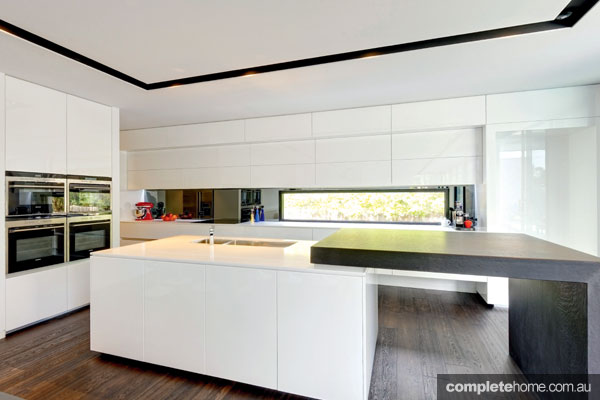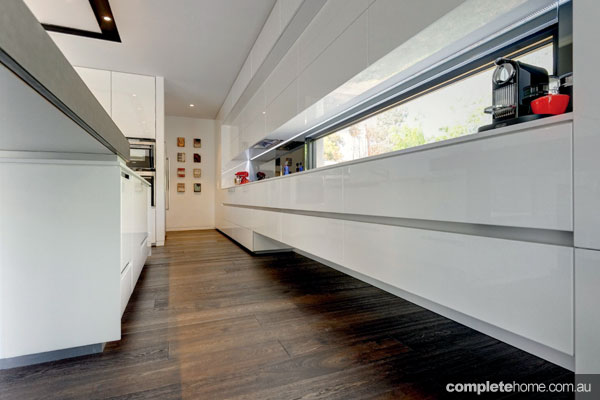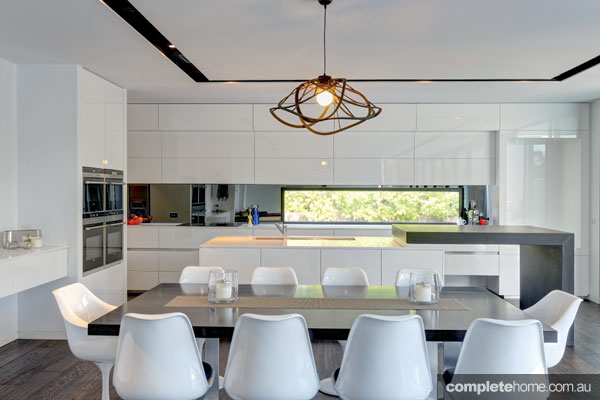 – See more at: http://www.completehome.com.au/project/magnificent-and-modern-kitchen/46001.html#sthash.yGQJgPAe.dpuf
moon hoon's go.mir guest house includes an elevated viewing platform
located on the korean island of jeju – a popular tourist destination – this guest house designed by moon hoon features an elevated viewing platform that towers above the neighborhood. the three storey scheme, called 'go.mir' after the name of the client, was completed on a limited budget and also contains a coffee shop in addition to the patron's personal home.
http://www.designboom.com/architecture/moon-hoon-go-mir-guest-house-south-korea-02-13-2015/