Here are two recent job vacancies from Melbourne:
Kitchen Design Victoria Pty Ltd, Melbourne
$150,000 + P.A commission only If you have kitchen sales experience, are a quick learner & have a hunger for sales then we can help achieve your goals by following our sales system.
http://www.seek.com.au/job/28685124?savedSearchID=10301498&tracking=JMC-SAU-eDM-JobMail4.01-3881&etcid=26674&etrid=CFCAF188-1405-463E-9C5E-BAE51149DD34
Kitchen Designer Required
Well established and highly regarded kitchen company in Bayswater, operating for more than 40 years requires a kitchen designer to join our senior team.
Commission based position – All appointments supplied.
Phone to arrange a confidential interview.
Genuine enquiries Only.
http://www.seek.com.au/job/28696306?savedSearchID=10301498&tracking=JMC-SAU-eDM-JobMail4.01-3881&etcid=26674&etrid=CFCAF188-1405-463E-9C5E-BAE51149DD34
Thinking of applying? Take advantage of our new  payment option: pay as you go only $200/week! The most affordable way to learn about kitchen design! Enroll now: http://www.kitchendesignacademyonline.net/contact/
Edoardo Gherardi
Industrial designer
Castelfranco Veneto / Italy
Born in Treviso in 1973, Edoardo Gherardi graduated cum laude in architecture in Venice. In 2000 he began working feverishly in the field of design and architecture. His collaboration with Euromobil began in 2004; his projects include stands for Milan's Furniture Exhibition. In 2007 he prepared Zotti's Epic, tale and elegy exhibition at Milan's Permanente and at Potenza's Palazzo Loffredo. His achievements earned him the contract for the designing of the new Ascom Comfcommercio building in Oderzo. He is a two-time third-prize winner of the Young&design award, thanks to his Zenitlab kitchen for Euromobil (2006) and his Una chair for Désirée. in 2008 aplate for "indicated product" has been recognized to the seat "STELO".
ONETOUCH for Euromobil
http://www.archiproducts.com/en/products/56112/fitted-kitchen-onetouch-euromobil.html
In 1922, the little town of Salurn situated in the mountains of South Tyrol was in need of a wheelwright. That marked the beginning of the history of Josef Kosta and his family in the field of woodworking.
In 1962, forty years after his father had settled in Salurn, Oskar Kosta founded the family run company Joko and began with the production of butchers blocks for professional use. High quality wood and precise processing helped the company establish itself in the european and international markets as a reliable manufacturer and supplier.
Since 2003, the company has been in its third generation, and we, Josi and Franz Kosta, are now making use of the know-how of Joko professional for the Jokodomus in- and outdoor kitchen modules. Functional kitchen carts and cooking stations.
The passion for a clear design language in combination with the latest kitchen technology is our motivating force.
An intelligent twist in a trend of urban microclimate gardens, the SmartGreenHouse helps users exercise their green thumb with almost any type of plant, herb, flower, fruit or veggie. This is made possible by a highly customizable climate control system that can be fine tuned in regards to temperature, light, and water as well as air and soil humidity. A synced smartphone app also guides users in not only the initial parameters for the green of their choice, but also long term maintenance.
Designer: Massimo Battaglia

Read more at http://www.yankodesign.com/2015/04/10/the-greenhouse-just-got-smarter/#1UtfklOIgchJtBUc.99
 Kitchen idea: Luminous and elegant
Fresh, light and whimsical: this indoor-outdoor kitchen is an absolute smash
Designer: Karl Noonan for Karl Noonan Designs
The client wanted a peaceful haven with a spiritual dimension in her beloved late 19th century terrace in Redfern, Sydney. She wanted to return home each day and feel like she was on holiday. Although on the edge of the city, this home's private garden might as well be in the bush as it's so quiet. Connecting the kitchen to the garden was very important in the design, as was expressing the owner's unique personality in a workable, multidimensional room. Positioning food preparation on the edge of the kitchen and towards the garden required special consideration. And as lighting was a very important feature in the design, the materials used had to have a luminous nature.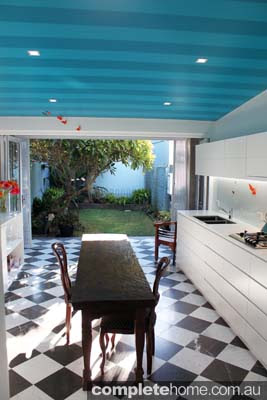 Samsung Staron® Solid Surfaces were selected for the benchtops as they are highly durable and possess beautiful, smooth lines. By using light to illuminate the Staron® surfaces, a luminescence was created to backlight the food preparation areas. Additional lights were added around the sink. Energy efficiency was also an important consideration, so more specific task lighting was created using low-maintenance LEDs, and the use of traditional overhead lighting was minimised. The overall result of this design is an inviting space that blurs the boundaries of outdoor and indoor living, and a kitchen that transforms from a bright vibrant space during the day to an illuminated magical area at night. It also won Best Small Kitchen in NSW at the KBDi Designers Awards." Designer: Karl Noonan for Karl Noonan Designs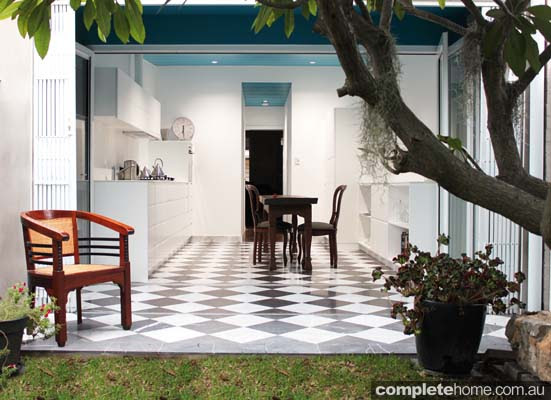 See more at: http://www.completehome.com.au/project/kitchen-idea-luminous-and-elegant/49090.html#sthash.CZT0IXYN.dpuf
delugan meissl's prefabricated home serves as an invisible retreat
designed by delugan meissl associated architects (DMAA), this reflective housing unit consists of a prefabricated timber structure ready for implementation at any designated plot. appropriately named 'casa invisible', the building is 14.5 meters in length and 3.5 meters in width, which allows the scheme's individual pieces to be easily transported to site.
offering its occupants a high degree of spatial flexibility, the open layout is structured by a chimney and a wet room, delineating three areas for individual use. pale timbers and white furnishings are used throughout the interior, accentuating the bright and spacious atmosphere inside the small dwelling.
through the use of modular construction and the intensive use of wood, the housing units can be completely disassembled – minimizing their environmental footprint. other advantages of the product are its relatively low cost, uncomplicated assembly, and its potential to suit a variety of locations.
http://www.designboom.com/architecture/delugan-meissl-associated-architects-casa-invisible-house-05-14-2015/
The industrial floating counter designed by Ochre for this East London apartment makes it easy to pull up a stool for seated meal prep, dining, or a conversation with the cook.
http://www.architecturaldigest.com/ad/books/2015/kitchen-kulture-gestalten-slideshow_slideshow_item6_7